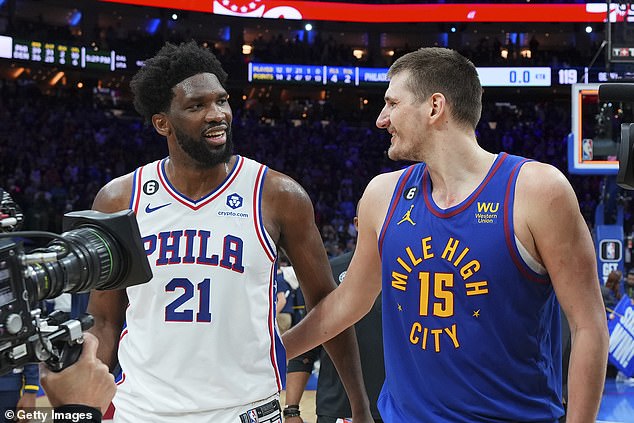 'People are just mean:' Nikola Jokic defends Joel Embiid's MVP win this season, praising the 76ers big man's 'extremely tough basketball' after clinching NBA Finals berth
Nikola Jokic was denied a third straight MVP win this season by Joel Embiid
But the Serbian center thinks voters were correct in awarding the Sixers star
DailyMail.com provides all the latest international sports news
While Monday night was an evening for Nikola Jokic to be celebrated, he still took the chance to praise one of his peers after sweeping the Lakers and clinching a spot in the NBA Finals.
Jokic was named the MVP of the Western Conference Finals after averaging 27.8 points, 14.5 rebounds and 11.8 assists for his Denver Nuggets.
But it was fellow big man Joel Embiid who took home that distinction for the regular season, as a hotly-debated race ended with 'the Joker' missing out on a third-straight MVP crown.
For Embiid, it was the first of his career, and one that Jokic feels is richly deserved. 
'I don't think about MVPs anymore,' the Serbian center said Monday night.
Joel Embiid and Nikola Jokic embrace following a game on January 28 at Wells Fargo Center
¿People are just mean in saying that Embiid shouldn¿t have won it. ¿ I think he was playing ¿ extremely, extremely tough basketball through the whole season.¿

Joki¿ speaks on the regular-season MVP race after Game 4 ¿ pic.twitter.com/E7R90Ken8v

— Bleacher Report (@BleacherReport) May 23, 2023
'People are just mean in saying that Embiid shouldn't have won it. I think he should have won it. I think he was playing, if you watch it, extremely, extremely tough basketball through whole season … He was really amazing in 82 games or how many games he played.'
Indeed, Embiid had a tremendous year as he led the league with a career-high 33.1 points per game to go along with 10.2 rebounds and 4.1 assists.
The 29-year-old led the Sixers to 54 wins and the No. 3 seed in the East, but things didn't go how the franchise would've hoped in the postseason.
Jokic was awarded with the Western Conference Finals MVP after sweeping the Lakers
Embiid lost in the second round and was slowed by a knee injury suffered in the playoffs
After sweeping the Nets in the first round, the Sixers lost in seven games to the Celtics after leading the series 3-2 – a third second-round exit in three years.
And Embiid was hobbled with an LCL sprain in his right knee that forced him to miss two games this postseason and score 'only' 23.7 points per contest.
Jokic, meanwhile, has already helped the Nuggets make franchise history in reaching the team's first NBA Finals.
Denver will either face the Celtics or Heat, with Miami looking extremely likely to advance after racing out to a shocking 3-0 series lead. 




Post source: Daily mail