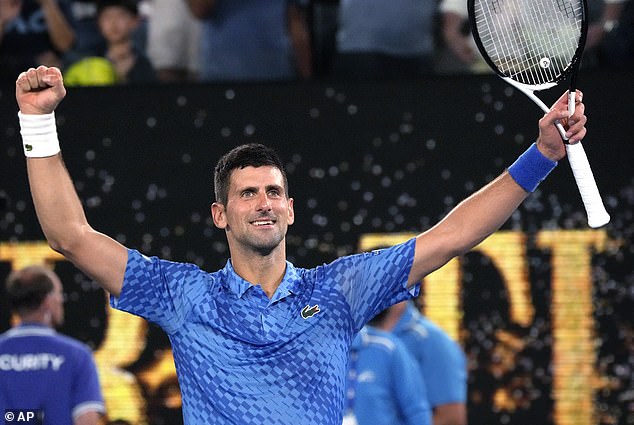 Novak Djokovic described Stefanos Tsitsipas as 'one of the most interesting' characters in tennis, but warned his rival not to expect any favours as it will be 'all business' when the two meet in the Australian Open final on Sunday.
The Serbian brushed aside Tommy Paul in straight sets on Friday night to reach a 10th final at Melbourne Park and the fourth in the past five years.
Earlier on Friday, Tsitsipas had to work far harder to prevail 7-6 (7-2) 6-4 6-7 (6-8) 6-3 over Karen Kachanov and will claim the world No1 spot if he beats Djokovic on Sunday.
Novak Djokovic reached his 10th Australian  Open final after beating Tommy Paul
'He [Tsitsipas] has improved over the years and I think he's one of the most interesting guys on the tour with his interests off the court and his hairstyle,' Djokovic told Jim Courier on the court shortly after beating Paul.
However, he warned there will be no room for feelings come Sunday evening. 
'It's all business on Sunday for both of us,' he continued.
'Let the better player win. Winning grand slams and being the No.1 in the world is probably the two biggest peaks that you can climb as a professional tennis player. So, yeah. Let's see what happens. I'll see you in two days, Stefanos.' 
Stefanos Tsitsipas beat Karen Kachanov 7-6 (7-2) 6-4 6-7 (6-8) 6-3 to qualify for the final
The Greek will become the World No1 if he beats Djokovic in the final on Sunday
While Sunday will be Djokovic's 33rd Grand Slam final, it will be only the second time Tsitsipas has reached the decider of a major tournament.
His hitherto only appearance in a Grand Slam final came two years ago, when he lost to Djokovic after squandering a two-set lead at the Roland Garros.
And the Serb hinted another stern test awaited him as he looked to win a record 10th title at Melbourne Park.
'It was a mental, physical battle,' Djokovic said as he reflected on his 2021 triumph on clay.  
'It always is with Stefanos and I respect him a lot.'
The Greek squandered a two-set lead to lose in five sets to Djokovic in the final of the 2021 Roland Garros, which is hitherto his only appearance in the final of  a Grand Slam tournament
Djokovic taunted the crowd after being booed at the end of the first set on  Friday night
Tsitsipas relished the prospect of resuming his rivalry with the 21-time Grand Slam champion, insisting 'these are the moments that I've been working hard for'.
The world No4 fell at the semi-finals hurdle in three of his previous four appearances at Melbourne Park, but survived a tough test to reach the final of a major where he's enjoyed great support over the years.
'To be able to play in finals like this, but finals that have a bigger meaning than just the final,' he said.
'It's a Grand Slam final, I'm fighting for the No.1 spot, it's a childhood dream to be capturing the No1 spot one day. I'm close.
But the Serb received  plenty of support from his fans, who vociferously roared him on 
'I'm happy that this opportunity comes here in Australia and not somewhere else because this is a place of significance.'
Djokovic was involved in a couple of controversial moments on the  court on Friday, as he shared an frosty exchange with the umpire after being reprimanded for a shot clock violation and taunted the crowd at the Rod Laver Arena.
Leading 5-1 in the first set, Djokovic was unsettled by a serve clock violation when he went to get his towel.
The 35-year-old appeared to argue that the clock ought to start after he collected his towel courtside – with ball kids no longer permitted to hand towels to players.
Djokovic let his lead slip as Paul won four straight games, before eventually composing himself to take the opening  set 7-5 to a chorus of  boos.
The 21-time Grand Slam  winner was clearly unimpressed with the reaction of the  crowd and appeared to taunt spectators by cupping  his ear.
But there was also plenty of encouragement and cheers for Djokovic, with Serbian flags dotted all over the Rod Laver Arena.
Asked about the boisterous support he received from his fans, the Serb replied: 'It means everything, especially at this stage of my career. 
'I need that energy and I'm really thankful that I still have enough gas in my legs to be able to play at this level on one of the biggest tennis courts in the world.' 


Post source: Daily mail