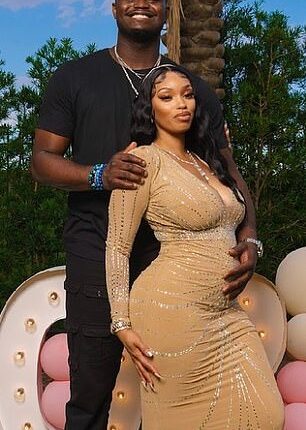 Moriah Mills has continued to rant on Twitter about her alleged relationship – and succeeding fallout – with Zion Williamson after he was seen doing a gender reveal with another woman earlier this week. 
The New Orleans Pelicans star has been incessantly tweeted at, and about, by the porn star since Wednesday – a day after it was revealed Williamson was going to be having a baby girl with his girlfriend, Ahkeema. 
Mills has flip-flopped between expressing her love for Williamson and conveying anger and bitterness toward the former Duke phenom. 
'I didn't get played I got lied to which is my issue @Zionwilliamson gifted me every time I saw him very nicely I have no complaints he always gave me gifts of what I asked for,' the 33-year-old tweeted Friday.
'It's just he betrayed my trust having a baby on me. He a old soul that's why he dated older women.'
Zion Williamson (L) has become the talk of Twitter and the NBA world since the pregnancy reveal Tuesday and the subsequent allegations put forward by porn star Moriah Mills (R)
Porn star Moriah Mills has tweeted incessantly about the saga since it began on Wednesday
The adult film star continued her online tirade at the NBA star on Twitter Friday 
She later tweeted she had spoken to Williamson, who attended an event for his charitable foundation Friday, and she regretted not seeing him on February 14.
'I spoke with him and he wants me to delete all the tweets but you had a baby on me @Zionwilliamson you need to man up and fixed this situation get a dna test so we can all move forward with are lives.'
'I wish I woulda came and seen you on Valentine's Day as you wanted me to but I was still sick from my failed butt reduction surgery in December so I was on bed rest until March as requested from my doctor. Now look a due date in November,' she said in a separate tweet. 
Despite the social media circus, Williamson was present as his foundation announced a partnership with Jefferson Parish Schools — a system of 81 schools with approximately 50,000 children in Louisiana's largest district. 
Williamson's foundation pledged $250,000 to the system, providing help for those who need uniforms.  
At the event, his stepfather – Anderson Lee – defended the character of Williamson amid the onslaught of condemnation and ridicule coming the way of the oft-injured All-Star.
'That's my son and I love him,' he said Friday. 'You know, when I was a child, I walked like a child, talked like a child, did childish things. But when I became a man, when I understood then God blessed me. 
'So, all I'm gonna say this morning is believe half of what you see and nothing you hear. That's all I'm gonna say. I stand by my son 100%.' 
Mills has continued to tweet about Williamson, often suggesting he is not completely to blame
Williamson's stepdad, Anderson Lee, defended the character of his son amid the onslaught of condemnation and ridicule coming the way of the 22-year-old North Carolina native
Williamson and his girlfriend shared a behind the scenes look at their gender reveal Tuesday
Williamson was described as a 'nasty sex addict' by Yamille Taylor, a 'digital creator' (above)
In her last post on the matter, Taylor shared a photo allegedly of Williamson lying on his front
Williamson has yet to make comment of any kind on the social media hysteria. On Thursday night, a woman named Yamille Taylor blasted the 22-year-old, calling him a 'sex addict.' 
She posted three stories about Williamson, one of which showed a man, alleged to be Williamson, sleeping. Another included Taylor suggesting she would move in with Mills in New Orleans should she move to Louisiana. Mills has alleged the Pelicans forward was going to relocate her to his home city.
Earlier this week, Mills went on a Twitter tirade after initially saying she had slept with the Pelicans star last week, and he 'better pray' she was not pregnant, among other things. 
The 33-year-old asked Williamson to protect her from threats after telling his girlfriend to 'come see me,' often a colloquial phrase used by those inviting or desiring to initiate confrontation. 


Post source: Daily mail