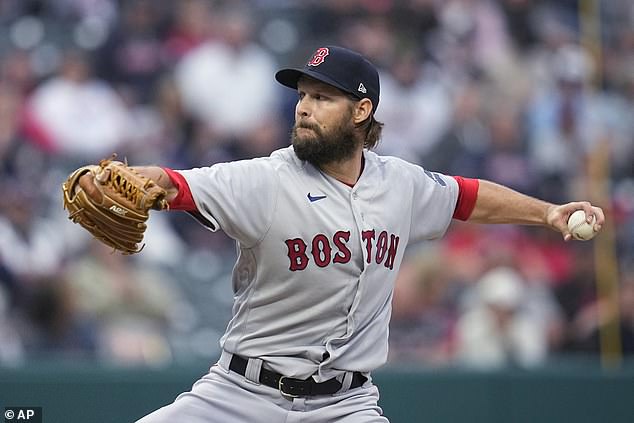 The Boston Red Sox have been forced into damage control after a homophobic tweet from pitcher Matt Dermody resurfaced. 
The 32-year-old shared a tweet in 2021, when he was still a member of Japanese team the Saitama Seibu Lions, which declared homosexuality a sin. 
His tweet, which appeared to be addressing Pride month, claimed that it was the 'truth' that homosexuals would go to hell. 
'#PrideMonth. Homosexuals will not inherit the kingdom of God,' Dermody had written. 
'They will go to hell. That is not my opinion, but the #Truth. Read 1 Corinthians 6:9. May we all examine our hearts, ask Jesus to forgive us, and repent for our sins. I love you all in Christ Jesus!'
Boston Red Sox pitcher Matt Dermody's homophobic tweet from 2021 has resurfaced 
The Red Sox are claiming they were unaware of the tweet as the left-hander had deleted it before signing with Boston in January. 
Boston claimed once it learned of it, team officials met with Dermody, who went through mandatory anti-discrimination and harassment training in March.
'What Matt posted in 2021 was hurtful – and we addressed this with him when we learned about it after he joined the Red Sox in 2023,' team president and CEO Sam Kennedy said in a statement. 'We cannot dictate the religious beliefs or political views of our players and employees, but we do require they treat people in our organization and ballpark with respect and professionalism.'
Red Sox manager Alex Cora echoed Kennedy's stance.
'Obviously, as an organization we made this decision and done a lot of stuff to educate our players on the subject,' Cora said sitting in the dugout at Progressive Field before the series finale. 'I don´t know how many organizations do it with their employees and their players as far as educating them about being inclusive, and obviously accepting everyone in your clubhouse and your working environment.'
Dermody was brought up from Triple-A Worcester to make his first major league start Thursday night against the Guardians. 
Fans were upset with Dermody being handed his first start and the Red Sox designated him for assignment once the game was over. 
He gave up two of Jose Ramirez's three home runs and took the loss as the Red Sox were thumped 10-3 by the Guardians.
Red Sox manager Alex Cora claimed that the organization educated its players on issues
Afterward, Dermody expressed some remorse for his actions.
'I do regret the tweet in the sense that it came out hurtful and it hurt a lot of people,' he said. 'That's the last thing I want to do is hurt people. A lot of people think that I'm against a certain group of people or whatnot. But I'm for everybody making it to heaven.'
Dermody is expected to be designated for assignment Friday as one of several roster moves by the Red Sox.
Cora said it's not his place to have an opinion on Dermody's beliefs.
'Obviously, not too many people agree with the tweet of Matt's,' Cora said. 'I'm not here to tell him what to say or to do. But one thing for sure, when you put this uniform on, what we want is for people to be inclusive.
'I think the clubhouse is a reflection of the world. We've got people from different race, different beliefs, not just religious beliefs but also politics.'
The incident is just one of many that have marred MLB's Pride Month celebrations. 
Pitcher Anthony Bass has been listed for assignment by the Toronto Blue Jays 11 days after he shared an anti-LGBTQ+ post on social media. 
The right-handed reliever shared a post on his Instagram stories in May calling for anti-LGBTQ+ boycotts of Target and Bud Light over support they showed for the LGBTQ+ community.
The post described the sale of LGBTQ+ merchandise as 'evil' and 'demonic' with both companies recently releasing campaigns supporting the community. 
Anthony Bass was listed for assignment by the Blue Jays after sharing an anti-LGBTQ post
Bass shared an Instagram post calling for a boycott of a Bud Light ad featuring Dylan Mulvaney 
Two of the Dodgers' pitchers have spoken out against the presence of the Sisters of Indulgence at the organization's Pride Night on June 16 after the invite was initially rescinded
The last event held by the anti-Christian LGBTQ group shows a man performing a stripper routine over a man pretending to be Jesus while tied to a crucifix — a sacred Christian symbol
Both companies are dealing with fallout from those campaigns, which have included hostile and homophobic criticisms and calls from LGBTQ+ activists not to cave to anti-LGBTQ+ groups. The fallout from Anheuser Busch's decision to collaborate with actress Mulvaney saw the company lose an astonishing $27billion in just months.
The Blue Jays' decision to designate him for assignment comes just hours before the first of the franchise's two Pride nights at Rogers Centre with Toronto hosting the Minnesota Twins Friday. 
Meanwhile. the Dodgers have come under fire for scheduling, then cancelling, then rescheduling anti-Christian LGBTQ drag group, Sisters of Perpetual Indulgence to be part of its Pride Month celebrations. 
LA stars Clayton Kershaw and Blake Treinen have spoken out against the franchise's decision to welcome the group to its Pride Night and subsequently present them with a Community Hero award.


Post source: Daily mail