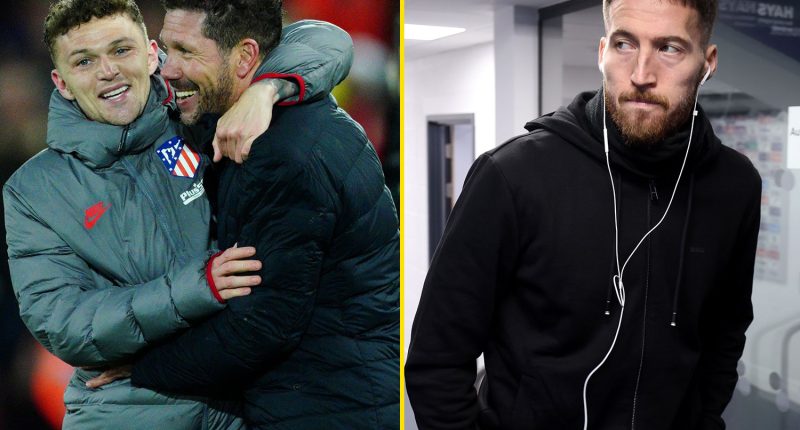 Matt Doherty is following a path well trodden with a move from Tottenham to Atletico Madrid.
That transfer was the making of Kieran Trippier, who won a LaLiga title in Spain under Diego Simeone, before returning to the Premier League with Newcastle.
Doherty is heading to Atletico on loan for the rest of the season, with Antonio Conte signing Pedro Porro from Sporting Lisbon.
He will be hoping for a similar transformative effect on his career under Simeone.
Trippier gave fascinating insight into the relentless nature of the Argentine at Atletico and the time and attention he gave him.
Trippier told The Athletic: "He's hard to explain… but when you see him on the touchline, that's how he is in every training session, every passing drill. He's just relentless. He'd work me for an hour and a half after training doing one-v-ones, showing me clips from my time at Tottenham, saying I should be doing this or that. 
"He helped me such a lot. He got me into positions I never thought I'd be in as a footballer. A lot of people were saying that Atletico was the wrong decision for me and 'he won't get past the halfway line in a Simeone team' but I didn't really think about that."
Trippier also explained the meticulous preparation that the Atletico boss would do and ways in which he would try and motivate his players before important games.

Chelsea's £88m man Mudryk lasts just 45 minutes in Fulham stalemate due to 'heavy cold'

Greenwood latest, Conte return update after surgery, Potter cuts Aubameyang from UCL squad

Ozil 'to quit football' with ex-Arsenal star set to terminate deal at third straight club

Ince reveals how Ten Hag and Man United staff 'lacked respect' after FA Cup clash

Ten Hag fields questions about Greenwood and his Man United future in press conference

Simon Jordan explains why Man United may have grounds to sack Mason Greenwood
"One-to-one, the night before we went for the title against Valladolid, he pulled me in," Trippier explained to the Daily Mirror.
"He showed me a video of when I signed, the press conference, where I said what I wanted to achieve with Atletico Madrid.
"I said that day I wanted to win the title. He remembered that and wanted to remind me. That moment spurred me on against Valladolid in that decisive last game, and we won it.
"Little details like that get the extra percentage out of player. He is very clever."
On the Argentine's character, Trippier added: "Simeone was incredible with me. He knew how I played. He changed my game defensively. He changed my game and the work I did individually, and I learned so much from him.
"His wife speaks perfect English. He is a manager who has to speak fluently because he wants to get his message across.
"If he couldn't get his point across he would get agitated, frustrated. Can he manage in England one day? I would love to see it."
Now Trippier is a vital cog in the revolution at Newcastle and Doherty will want a similar experience after jetting to Madrid.
It won't be all sangria and sunshine under Simeone, that's for sure.
Keep up to date with all the latest news, rumours and gossip with our LIVE transfer blog