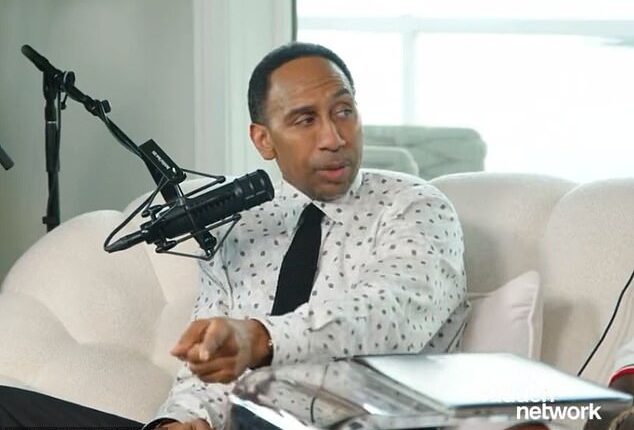 Smith says that Sharpe 'didn't want to leave' FOX, but he was 'pushed out' 
Sharpe now appears on ESPN's 'First Take' as a guest on Mondays and Tuesdays
DailyMail.com provides all the latest international sports news 
ESPN's Stephen A. Smith has stated his belief that his new TV partner Shannon Sharpe was 'pushed out' of FOX Sports' debate show 'Undisputed'.
Smith – who hosts the popular 'First Take', where Sharpe now makes guest appearances – spoke on 'The Joe Budden Podcast' about his new co-worker.
'I'm telling you he was pushed out,' Smith said. 'It's fact. They can deny it. He wouldn't. I can promise you that. He was pushed out. 
'He didn't want to leave. He was notified that your services would no longer be needed. That's his story to tell. I'm telling you what I know. I'm giving you facts.'
Stephen A. said he felt the need to speak up on Sharpe's behalf after he himself left ESPN for a brief period from 2009-2012. 
Stephen A. Smith says his new 'First Take' co-host Shannon Sharpe was pushed out at FOX
Sharpe had teamed with Skip Bayless on the show 'Undisputed' from 2016 until this past June
Sharpe made the jump to ESPN – where he now appears as a guest on 'First Take' periodically
The 55-year-old Smith said he saw it as his 'responsibility' to speak on behalf of his new colleague – as well as making sure he had a place to land.
Sources told the New York Post that Skip Bayless – now the only main host of 'Undisputed' – fought to keep Sharpe on the show. 
But those sources said Bayless sensed Sharpe wanted to leave to pursue new opportunities. They also said they weren't aware of specifics of what was said between Sharpe and FOX Sports bosses.
A spokesperson for Fox Sports told The Post, 'We have nothing but love and respect for Shannon and we remain grateful for his contributions to Fox Sports. We wish him continued success in his new chapter.'
Sharpe is currently appearing twice a week on 'First Take' on Mondays and Tuesdays during the NFL season.
Meanwhile, 'Undisputed' has evolved to a panel-style show with the likes of Keyshawn Johnson, Michael Irvin, Rachel Nichols, Richard Sherman, Lil Wayne, and Josina Anderson joining Bayless.


Post source: Daily mail