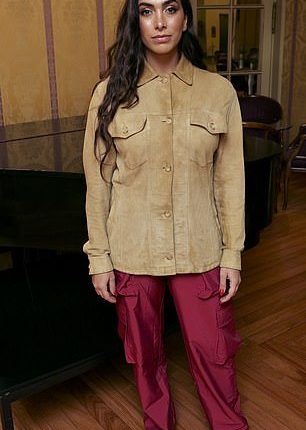 Singer Ellynora has apologised to fans after technical hitches meant she 'butchered' God Save The King ahead of England's 2-1 Euro qualifying win over Italy.
Millions on TV – and players and fans in the Naples stadium – grimaced and cringed as Ellynora, 28, stumbled and lost her way as she sang the national anthem ahead of the match.
She appeared to miss the opening note before a look of panic crossed her face as she fiddled with her earpiece, as she tried to regain her composure but was left floundering.
Speaking exclusively after the game, Ellynora broke down in tears as she apologised for the performance – before giving a flawless note perfect rendition for MailOnline.
Italian-American Ellynora said:' I'm just so angry with what happened because I wanted it to be perfect but what happened wasn't my fault.
Singer Ellynora has apologised to fans after technical hitches meant she 'butchered' God Save The King ahead of England's 2-1 Euro 2024 qualifying win over Italy
'I want to say sorry to all the England fans who were at the stadium and watching on TV, I'm mortified for what happened and I want people to know that I wasn't being disrespectful.
'It was such an honour to be asked to sing the national anthem and I was so excited about it. I've never sung anything like that before.
'I'm more of a pop artist but at the ground there was a sound issue.
'I had rehearsed the anthem twice the day before the match and then on the night three times but when it came to the actual performance, I had a problem with my earpiece.
'I had the music in my ear and then it stopped and started again, and I was hearing it twice, so it meant I was out of synch, and it was hard for me to catch up.
'I really tried my best to solve the problem but there was nothing I could do and I'm so angry about it.
'I was trying to adjust my singing to catch up with the anthem in the stadium, but it was too late.'
As Ellynora desperately battled to correct the bungle, TV cameras panned down the England line up and the players could be seen looking on incredulously. 
Holding her earpiece Ellynora struggled to sing in time ahead of the game in Naples
Fans shared memes lampooning the national anthem disaster in Naples last night
A bemused looking Jude Bellingham glanced along at his teammates as she sung, while players and staff on the edge of the pitch on the bench also exchanged confused looks.
Seconds after finishing her performance Ellynora posted a picture of herself on Instagram telling fans 'England I hope you enjoyed my gift' before quickly deleting it after realising her rendition was being panned.
On social media supporters mocked the singer, with some labelling it the 'worst' performance of the national anthem they had ever heard at a game.
Former Tottenham defender and now pundit Jamie O'Hara said:' Wow, national anthem was a shambles.'
One furious fan posted a picture of Ellynora on social media singing, adding:' Wanted for crimes against the national anthem.'
While another said: 'Whoever this is singing the national anthem for England is embarrassing. Disgraceful.'
Ellynora explained:' This was so annoying and upsetting for me, the fans are right to be angry and I'm so, so sorry but like I said earlier I wasn't being disrespectful. It was completely out of my hands.
'I've seen the reports and that just makes it even worse for me because it was such an honour to sing the national anthem for England because it's a piece of history.
'I had prepared myself with my outfit and even had shoes with the England flag on them because I wanted to do my best and make England proud. 
The Italian-American singer deleted an Instagram post after her performance following backlash from angry supporters 
Gareth Southgate and his staff were left equally bemused during the cringe-worthy moment
England stars looked across their line in confusion as the song played out before the game
Jude Bellingham took a double-take when the singing began while Kyle Walker looked baffled
England supporters – significantly outnumbered inside the ground – tried their best to rouse a passable rendition
'Instead because of this mistake it all went wrong and I want to apologise again to fans for what happened but it really wasn't my fault, it was issues with the ear piece that caused the problems.'
The bungle meant Ellynora joined a list of other artists including Adele, Beyonce and Taylor Swift who have all had earpiece issues while performing live at gigs.
But unlike them Ellynora couldn't halt her performance as she had a tight schedule to keep, to ensure the game kicked off on time.
Ellynora also revealed she had not been paid for the performance and had travelled from the United States at her own expense and was jetting straight back.
She told MailOnline: 'The whole thing was very last minute; I was in Miami on Saturday for music week when I got a call asking if I could sing the national anthem.
'I said I could because it was such an honour and so caught a plane back to Italy and then drove from Rome to Naples – I funded the whole thing myself and didn't get a penny for it.
'It cost more me more than 3,000 Euros and now this has happened – I'm going to get my manager to write to the organisers to explain how disappointed and angry I was with what happened.'
Ellynora added:' I'm planning on recording a version and posting it on my social media so fans can see I can sing the national anthem and I can only apologise again because I really did put a lot of love and hard work into this.
'I hope the version the fans, the country and maybe King Charles sees and hears will show that I did know what I was singing and it was totally out of my hands.'
Declan Rice gave England the lead early on in the first half with a deflected strike from a corner
Harry Kane then netted a decisive penalty kick to give the Three Lions a famous 2-1 victory
England players didn't let the performance hinder them too much though as they strolled to a famous victory to get their qualification off to a perfect start.
Goals from Declan Rice and Harry Kane ensured Gareth Southgate's team won a competitive game in Italy for the first time since 1961.
It was a history making night for Kane with the captain and Tottenham Hotspur talisman breaking Wayne Rooney's record to become the country's all-time top goal scorer with 54 goals, with the former Manchester United striker leading the praises for his former international team-mate.
Kane then revealed his delight at breaking the record, saying: 'It means everything,' said Kane. 'I was so excited to put the England shirt on, get back out here and get the campaign started for next year's Euros. It had to be a penalty, and once it hit the back of the net, huge emotion. A magical moment.




Post source: Daily mail