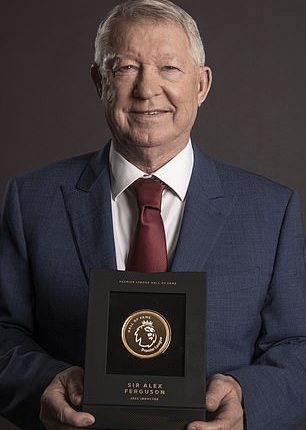 They had the most bitter rivalry in the history of the Premier League and when Sir Alex Ferguson's grudge match with Arsene Wenger was at its most fierce, the insults, fists and even pizza flew between Manchester United and Arsenal.
You wouldn't have known it to hear the two men speak fondly of each other on Wednesday after becoming the first managers to be inducted into the Premier League's Hall of Fame. Wenger did describe them as 'two old boxers' and it was an appropriate comparison.
But for a long time, it felt as though the warring bosses of United and Arsenal would never see eye to eye. Ferguson has admitted in recent years that the mutual antipathy became toxic for a while.
The problems began soon after Wenger arrived in English football from Nagoya Grampus Eight in Japan with a reputation for being an academic.
'They say he's an intelligent man, right? Speaks five languages? I've got a 15-year-old boy from Ivory Coast who speaks five languages,' Ferguson commented caustically.
Sir Alex Ferguson (left) and Arsene Wenger (right) became the first managers to be inducted into the Premier League Hall of Fame
The two former managers have become friends after years of rivalry in the dugout
The Scot's irritation only grew when Wenger had the temerity to claim in the early days that United were given favourable treatment by the Premier League over fixture scheduling.
'He's a novice and should keep his opinions to Japanese football,' snapped the United boss.
But it was when Arsenal began to seriously challenge United's dominance on the pitch that relations between the two managers and their teams plummeted.
After Arsenal won the Double in 2002, Wenger was asked about Ferguson's claim that United had been the best team in the country. 'What do you want me to say?' he replied drily. 'Everyone thinks he has the prettiest wife at home.'
Ferguson was furious and accused Wenger of lacking etiquette. 'He never comes for a drink with the opposing manager after matches. He's the only manager in the Premiership not to do so. It's a tradition here, and it would be good for him to accept.'
The duo shared several intense moments during their careers in the dugouts of their teams
Insults, fists and even pizza flew between Manchester United and Arsenal with the two in charge
The drama around Ruud van Nistelrooy's late missed penalty at Old Trafford saw Arsenal go on to become Invincibles in 2004 and crank up the rivalry.
The corresponding fixture the following season signalled the low point as United's win ended Arsenal's 49-match unbeaten run.
It exploded into the so-called Battle of the Buffet as the players clashed in the tunnel and Ferguson was spattered with pizza thrown by Cesc Fabregas. The Scot also accused Wenger of confronting him with his hands raised, calling it 'a disgrace' and demanding an apology.
The League Managers' Association were forced to intervene and the chief executives of both clubs, David Gill and David Dein, also had to step in as peacemakers.
But Wenger was having none of it. 'Ferguson's out of order. He has lost all sense of reality,' he said. 'He is going out looking for a confrontation, then asking the person he is confronting to apologise. He's pushed the cork in a bit far this time and lost a lot of credibility by saying what he said.'
The drama around Ruud van Nistelrooy's late missed penalty at Old Trafford saw Arsenal go on to become Invincibles in 2004
Ferguson previously bashed Wenger for refusing to take part in the 'tradition' of having a post-game drink with the opposing manager
Arsenal's form dipped, however, and Ferguson's ire cooled as Chelsea emerged as United's biggest challengers
In February 2005, captains Roy Keane and Patrick Vieira — the embodiment of their managers' enmity on the pitch — were going at it in the Highbury tunnel.
But Ferguson's ire cooled as Arsenal became less of a threat and Chelsea emerged as United's main challengers.
By the time the Gunners boss was famously sent off by Mike Dean at Old Trafford in 2009, the Frenchman standing with arms outstretched among the goading home fans because he didn't know where to sit, he was no longer in Ferguson's crosshairs.
Indeed, when Wenger returned to make his final appearance there as Arsenal boss five years ago, Ferguson greeted his old sparring partner with a warm embrace and presented him with an engraved silver vase as applause rang out.
There were only kind words on Wednesday as their induction into the Hall of Fame was announced. 
In an interview with the Premier League, Ferguson credited the signing of 'messiah' Eric Cantona for his first title win in 1993 and the capture of Robin van Persie from Arsenal for his 13th championship two decades later. 
'I'm truly delighted to be inducted into the Premier League Hall of Fame,' he said. 'It's an honour when you receive recognition like this.
'However, it's not just about me as a person. It's about the job at Manchester United and the bond we had over many years, so I'm also proud for the club, the staff and my players.
Ferguson said United's history and expectations were what drove him to be successful
'My job was to send the fans home happy. United's history and my own expectations were the things that drove me, and I then had to try to develop all my players with the same expectations and make sure we could go out and achieve them.'
Asked about the infamous 'hairdryer' treatment he used to berate his stars, Ferguson added: 'I could lose my temper if we lost. Do you know why? They forgot the expectation. When they didn't reach those expectations — they got it.'
Wenger has been inducted for this three title wins and overall contribution to the Premier League. He said: 'We always wanted to give something special to the fans and when you have players capable of remarkable things, the most important thing is the obligation of perfection.
'I'd like to be known as someone who loved Arsenal, who respected the values of the club and left it in a position where it can grow and become even bigger.'


Post source: Daily mail