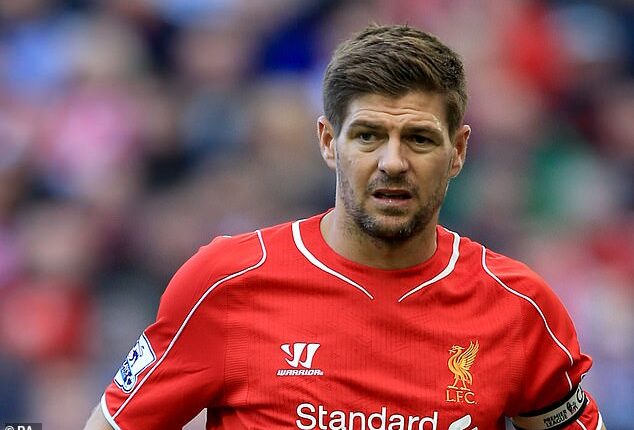 Steven Gerrard has revealed his regret at leaving Liverpool when he did 
He moved to LA, but missed out on the opportunity to play under Jurgen Klopp 
Listen to the latest episode of Mail Sport's podcast It's All Kicking Off!
Steven Gerrard has revealed his regret at leaving Liverpool months before Jurgen Klopp came in at Anfield and revolutionised the club.
Gerrard was offered a one-year contract extension by the Reds for the 2015-16 season, but turned it down in favour of MLS side LA Galaxy, after Liverpool's manager at the time, Brendan Rodgers, told him that his playing time would be reduced in the forthcoming season.
But with the benefit of hindsight, Gerrard, 43, has said that he wished he could have stayed at Liverpool a season longer, and worked with Klopp, who came in four days after Rodgers was sacked from his post in October 2015. 
In a video posted by The Anfield Wrap on TikTok, Gerrard said: 'I was devastated. I obviously made a decision not to sign a year extension to go to America, whereas if I'd took the extension, I might have got six months under the guidance of Jurgen Klopp. 
'But obviously being under Brendan's management at the time, I was getting told my game time was gonna get less and less. I didn't wanna be a sub for Liverpool, I didn't wanna be a squad player. I still felt that I was the best midfielder there at the time.
Steven Gerrard has revealed his regret in hindsight at leaving Liverpool when he did in 2015
Then manager Brendan Rodgers had told Gerrard that his opportunities would be limited
However, it meant he missed out on working with Jurgen Klopp by only a matter of months
'But in hindsight, if I'd have knew what was gonna come off, 100%, I'd have signed the year extension, and I'd have put up with four to five months of Brendan to get six months of Klopp, for sure.' 
Gerrard played over 700 games in all competitions for Liverpool, scoring 185 goals, asserting himself as a club legend, having played for the club through youth levels and making his senior debut in 1998.  
But leaving when he did meant he did not work with former Borussia Dortmund coach Klopp, who has also written his name into Liverpool's legacy with the success he has brought to Merseyside since taking over from Rodgers.
Under Klopp, Liverpool have won the Champions League, the Premier League, and the FIFA Club World Cup, as well as the FA Cup and League Cup double in 2022.
Gerrard played for LA Galaxy in the 2015 and 2016 campaigns, making a total of 39 appearances in all competitions, and scoring five goals.  
He is now a manager himself, having taken over the hotseat at Saudi Arabian side Al-Ettifaq earlier this year, where he oversees a team including another former Liverpool captain, Jordan Henderson.  


Post source: Daily mail