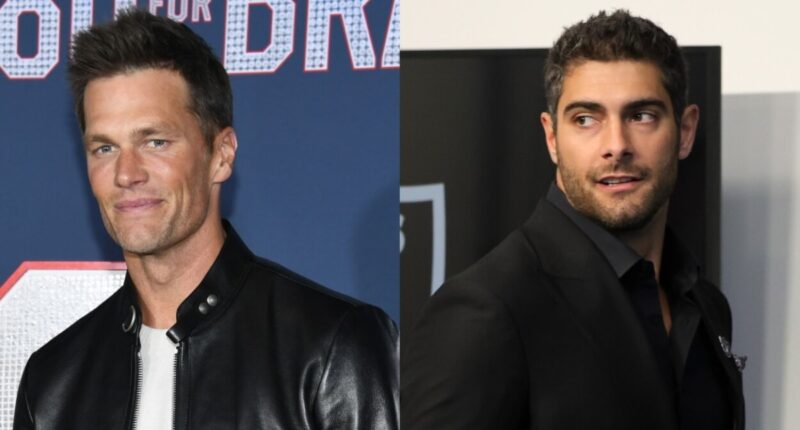 Once upon a time, the New England Patriots drafted a young QB named Jimmy Garoppolo to back up, and maybe someday replace, Tom Brady. That didn't work out, and the Patriots had to trade Jimmy G. Six years later, Jimmy Garoppolo was set to be the Las Vegas Raiders quarterback. However, shocking injury news and a surprising ownership addition could result in history repeating itself.
Jimmy Garoppolo may be out with the Raiders before taking a single snap
After a disappointing 6-11 season in 2022, the Raiders decided to let longtime QB Derek Carr walk.
Instead of trading for Aaron Rodgers or drafting a young signal-caller in the top 10 of the 2023 NFL Draft, the Raiders signed former San Francisco 49ers QB Jimmy Garoppolo to a three-year, $72.75 million deal.
Garoppolo was good (when healthy) for the 49ers, producing a 38-17 record and taking them to a Super Bowl (2019) and an NFC Championship Game (2021). However, injuries led to the team drafting quarterback Trey Lance. But after Lance went down and Garoppolo got his job back, Jimmy G once again suffered an injury, and Brock Purdy took over.
Now, Garoppolo is set to take over the Raiders' starting job, but it seems like the foot injury that knocked him out of the 2022 season is lingering in the offseason. Pro Football Talk is reporting that Garoppolo is yet to pass his Raiders physical and that there is language in his contract that allows the team to terminate the deal if he doesn't get a clean bill of health before the season begins.
It is now getting late in the NFL offseason to find a Plan B at quarterback after all the dominoes have fallen in the annual QB carousel.
However, in true Vegas fashion, the Raiders may have an ace up their sleeve in the form of the franchise's new minority owner, Tom Brady.  
Tom Brady is in as a Raiders owner, which could be bad news for Jimmy G
Tom Brady was 37 when the Patriots drafted Jimmy Garoppolo. Little did anyone (but Brady) know at the time that he was still nine seasons away from retirement.
When the Patriots finally started to realize this, they shipped Jimmy G off to San Francisco.
Now, for the second time in the last four offseasons, Tom Brady has announced his retirement. And while this one seems more likely to stick than the last one, recent events have conspired to send the Brady rumor mill into full gear.
In May 2023, the Raiders announced Brady will join Mark Davis and the Raiders' ownership group. A few days later, news of the Garoppolo injury clause came out.
So, here we are with the Raiders possibly having no clear starter for the 2023 season, a roster ready to win now with the right QB, and the greatest signal-caller in NFL history about to be part of the organization.
Tom Brady has forced an NFL team to move on from Jimmy Garoppolo before, and with everything going on with the Raiders in recent weeks, it's not a wild thought to think it could happen again.