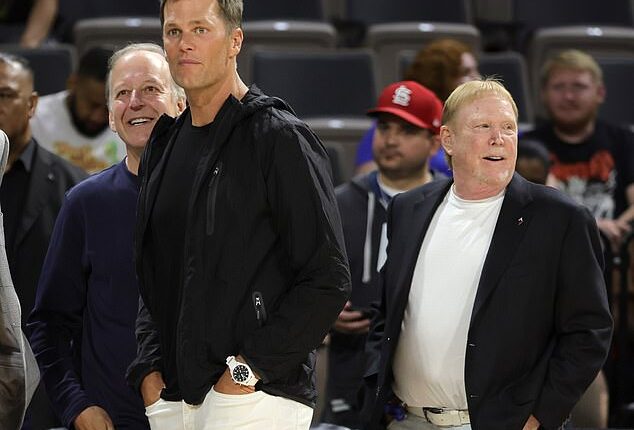 EXCLUSIVE: Tom Brady would 'love nothing more' than to return to the NFL – but it's 'close to impossible' for him to unretire again
Tom Brady retired for the second time in February in an emotional video
And he still 'misses football' according to a source close to the quarterback
DailyMail.com provides all the latest international sports news
Tom Brady would love nothing more than one final shot at winning another Super Bowl but is not planning to unretire for a second time, according to a source close to the former Bucs quarterback.
Brady announced his retirement – for a second time – in February after 23 seasons, and has since become a minority owner of the Las Vegas Raiders.
But according to a source close to the seven-time Super Bowl winner, Brady still has an itch to play – even if its one he won't scratch. 
 'Tom misses football, loves playing, and would love nothing more than to compete again on the grandest stage and win another Super Bowl. But as amazing as those thoughts sound, he has made the decision to retire from the NFL once and for all,' the source told Mail Sport.
'He now has an ownership stake with the Raiders, and though he is very familiar with the coaching staff in Las Vegas, and the fact that the Super Bowl would be played in Vegas this upcoming season, at this time it is very unlikely and close to impossible that Tom would come back to play for the Raiders or any NFL team this upcoming year. 
Tom Brady has bought a minority piece of Mark Davis'  Raiders following his retirement
Brady had two kids with Bundchen (Vivian, left, and Benjamin, right), and one with ex-wife Bridget Moynahan (Jack, back left)
'Currently in his mind, his other ventures in entertainment and entrepreneurial efforts and also the fact he will be a future play-by-play announcer for FOX are really taking up all his time.'
Brady is set to step into the broadcast booth with FOX in the fall of 2024, while he also owns an eponymous apparel brand, Brady Brand.
Furthermore, Brady also has his own fitness and nutrition brand, TB12, and started production company 199 Productions in 2020.
Of course, Brady has also been able to spend more time with his family since hanging his cleats up.
While Brady and ex-wife Gisele Bundchen divorced last year – possibly because of his un-retirement from the sport, according to some reports – the former quarterback has three kids (two with Bundchen) and plenty more hours to see them now.
'Since he is such a family man, this extra time with his kids has been amazing,' the source said.
'He has to keep busy and he is doing that and that is keeping him away from a return to the field, no matter how romantic it sounds to him to return to the field and no matter how flattered he is that people want him back or think he could come back, he is looking to avoid unretiring.'
Brady hung up his cleats for a second – and seemingly final – time this February
Brady and Bundchen announced they had split after 13 years of marriage in October
Brady was asked point-blank in April if he would consider coming out of retirement and playing for the Dolphins, and he didn't answer no.
'Oh man, I will say now that I'm not I'm affiliated with any team any more and, even though I have some ties to a couple of teams, I do have some friends on the Dolphins that I really like,' he said at the eMerge Americas tech conference in Miami.
'I wouldn't say I'm necessarily rooting for them all the time but I root for my friends to do well.'
Brady played 20 NFL seasons for the Patriots – winning six rings in New England – before spending his final three years in Tampa Bay.
He won a seventh and final ring with the Bucs following the 2020 regular season. 


Post source: Daily mail