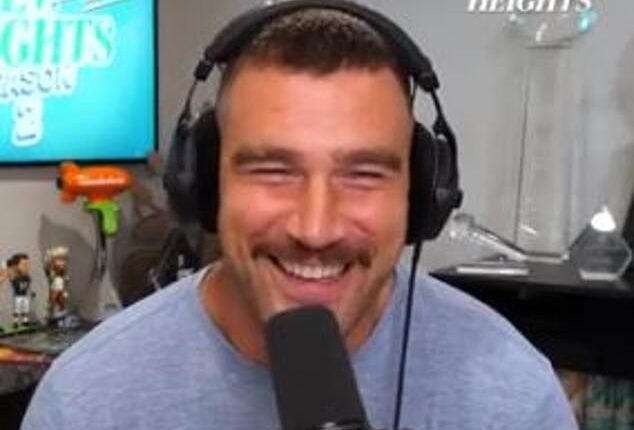 Travis Kelce has heaped praise on 'ballsy' Taylor Swift for sticking to her word and turning up at his Chiefs game on Sunday – and says she 'looked amazing' in his suite.
Their new romance stunned the world this week, but until now neither of the high-profile pair had publicly addressed their situation, after they were spotted leaving Arrowhead Stadium together in his vintage convertible.
Speaking alongside his brother Jason on the latest episode of their popular New Heights podcast, Travis has now finally broken his silence and addressed 'the rollercoaster of life', saying: 'Shout out to Taylor for pulling up. That was pretty ballsy.
'I just thought it was awesome how everyone in the suite had nothing but great things to say about her. The friends and family. She looked amazing, everybody was talking about her in a great light. 
'On top of that, the day went perfect for Chiefs fans of course. We script it all ladies and gentlemen. It was just impressive.'
Travis Kelce has finally addressed his Taylor Swift situation and says she 'looked amazing'
Swift was at the Chiefs game on Sunday, cheering Kelce on as he played against the Bears 
Taylor went viral throughout the afternoon and evening after being pictured alongside Donna Kelce, with the pair laughing and chatting throughout the game. 
'To see the slow motion chest bumps, to see the high fives with mom, to see how the Chiefs kingdom was all excited she was there, that s*** was absolutely hysterical, it was definitely a game I'll remember, that's for damn sure,' Travis added. 'And then we just slid off in the getaway car in the end…
'Shout out to Taylor for coming through and seeing me rock the stage.'
The days since have been something of a whirlwind for Travis and Taylor, with the entire world desperate for more information about their romance.
Travis himself is a huge name in the world of the NFL, but his romance with Taylor has taken him to the next level – with paparazzi now gathered outside his house.
'They all have British accents or something European,' he joked on the podcast, before his brother Jason asked how he knew they were paparazzi.
Travis said that Taylor 'looked amazing' while watching him play for the Chiefs on Sunday 
Kelce and Swift were seen leaving the stadium together after the Chiefs game on Sunday
'They have a camera in their hands and they're screaming my name,' came the response.  
As for what happens next, everyone is desperate to know… but Travis appears to be keeping tight-lipped on next steps.
'I know that I brought all this attention to me, I'm the one that did the whole friendship bracelet thing and told everybody how butthurt I was that I didn't get to meet Taylor,' he began. 'You miss 100% shots you don't take, baby.
'What's real is that it is my personal life. I want to respect both of our lives. She's not in the media as much as I am doing this show every single week and having fun during the NFL season doing other guys' shows like the McAfee show and any other show I go on from here on out.
'Like you said on that Thursday night game, I'm enjoying life and I sure as hell enjoyed this weekend. So everything moving forward, I think talking about sports and saying "alright now" will have to be kind of where I keep it.'
Since the game on Sunday night, there has been a huge focus on Kelce – so much so that sales of his jersey have sky-rocketed 400%.
The NFL star and Super Bowl champ certainly appeared to enjoy his weekend in the limelight
Kelce later drove Swift off into the Kansas City sunset in his vintage drop-top
Jason broke that news to his brother on the podcast, who responded: '400 percent? Jesus! Sounds like the Swifties are also part of Chiefs Kingdom!
'Literally everyone [has been talking about it], even Bill Belichick. He hasn't talked much about me outside of gameweeks that we played… made sure to remind me that that was the best catch I ever had in my life. Hilarious. 
'And then you got coach Reid telling everybody he's cupid. He's been manifesting this the whole time.'
When asked if there was any truth to that particular rumor, he added: 'Ahhhh. I don't even know how to answer that. I know that he had met the Swift family before so I don't know, he could've been in the background the whole time…. who knew Cupid was so big?'


Post source: Daily mail