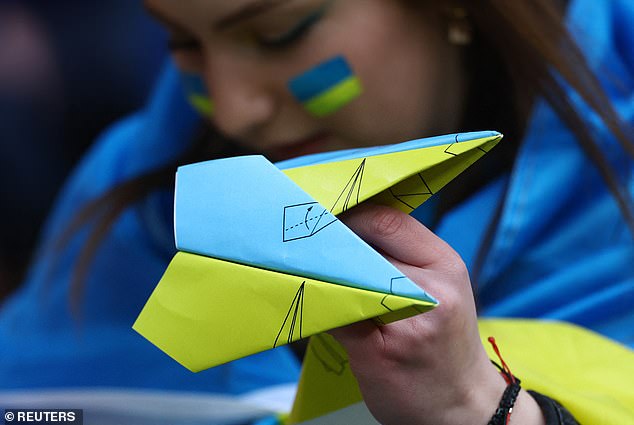 Ukrainian fans watching their team's football match against England at Wembley today let dozens of blue and yellow paper planes loose and sang songs mocking Vladimir Putin as they called for F-16s to aid Ukrainian forces in the war against Russia.
In the 24th minute of play the paper planes were hurled into the air in a coordinated movement, against a backdrop of hundreds of Ukrainian flags.
Before the match, England's players joined together with Ukraine's to stand behind the national flag of the war-torn country and send out a message of peace.
England's meeting with Ukraine in a Euro 2024 qualifier on Sunday comes as their opponents face an ongoing war with Russia in their own country.
Supporters in the stands held messages appealing for F-16 fighter jets as they protested against Putin's illegal invasion. 
Fans threw paper airplanes in the 24th minute of play, leaving them to fall to the ground as part of their call to receive more help from the west
English and Ukrainian players came together in solidarity behind a flag that read 'peace'
The planes had previously been handed out as lyric sheets for a song mocking President Putin and his forces
Meanwhile, Ukraine's players were each draped in their national flag as the team stood for the national anthems ahead of the 5pm kick-off in north-west London. 
Around 23 minutes after kick-off, England fans watched as dozens of paper planes were released by their counterparts.
Ukrainian fans also sang songs mocking Putin and his invasion, customising England's anthem 'Ten German Bombers'. 
Lyric sheets were handed out at the stadium to encourage fans from all sides to join in, with the trademark 'German bombers' changed to 'Russian bombers'. 
It was these sheets that were then used as paper airplanes by fans in the stadium. 
The end of the song went: 'There were no Russian bombers, no Russian bombers, there were no Russian bombers in the air […] Cos the Air Force from Ukraine, Air Force from Ukraine, Air Force from Ukraine needs F-16s to shoot them down.'
The lyrics were a reference to Ukrainian President Zelensky's appeals to the west for fighter jets such as F-16s to help in their efforts against Russia. 
Fans in the crowd echoed the call, with one young boy holding a sign reading: 'Rishi, we need F-16s'.
Another fan was pictured holding a large Ukrainian flag with the message: 'No time to wait. We need F-16[s]'.
Around 23 minutes after kick-off, England fans watched as dozens of paper planes were released by their counterparts
Hundreds of Ukrainian flags were seen around the stadium, both on and off the pitch
The paper planes lay around the edge of the pitch as the match between the two teams continued
Ukraine's players stood for their anthem draped in the national blue and yellow flag on Sunday
Ukraine is currently in the middle of an ongoing war with neighbouring country Russia
Andriy Shevchenko has declared that England's qualifier with Ukraine is bigger than football
The ongoing invasion of Ukraine has impacted on the country, with air travel prohibited. As Sportsmail previously reported, Ukraine's kit men and some other staff members had to begin their journey eight days before Sunday's fixture, travelling to Poland on their way to England.
Speaking to Channel 4 before kick-off, former Ukraine striker Andriy Shevchenko said Sunday's match was 'about more than football'.
Shevchenko also hailed the soldiers who were on the frontline against Russia. The 46-year-old said: 'We are so lucky for their sacrifices and the team today are so lucky because they stay strong to keep freedom for Ukrainian.
'I think we're mentally very strong and we are united all together.'
Former England Lioness Jill Scott spoke out about the country continuing to play football despite the ongoing situation at home. Scott said: 'It shows the power of football – how they play week in, week out. Putting smiles on faces.'
England captain Harry Kane echoed the sentiment as he said the game was a truly 'special' occasion.
He said: 'It will be a special night. I will have my wife and kids with me walking out to have a picture. We've got an important game so I'm trying not to think about it too much.'
Gareth Southgate added: 'We're clearly hugely respectful of everything that's happening [in Ukraine].
'There's a lot of tributes, sympathies and support for Ukraine.'
It is Ukraine's first fixture in the qualifying stage for the Euro 2024 championships in Germany next summer.
England started their campaign with a win in Naples on Thursday night with Harry Kane's opener against Italy crowning him as the country's all-time top goalscorer.
England finished the match as 2-0 winners, with Harry Kane and Bukayo Saka scoring for the hosts in the first half.
After the game, Saka tweeted: 'Thank you Wembley!' 
Fellow England teammate Jack Grealish was pictured after the game sharing an embrace with Ukraine's Oleksandr Zinchenko.
He wrote: 'Class to be back at Wembley today, always love playing there. Perfect week with the boys.'


Post source: Daily mail