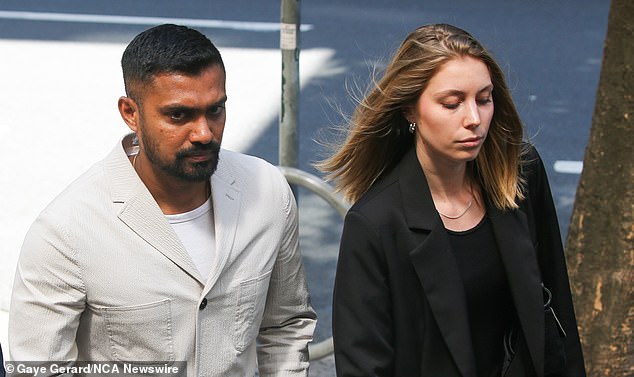 Danushka Gunathilaka is facing a judge-alone trial  
Has pleaded not guilty to charge of sexual assault 
Police officer has been grilled over scrap of paper 
A police officer has been grilled in court after she revealed she wrote an allegation of a sexual assault by a Sri Lankan cricketer on scrap pieces of paper that she later threw in the bin.
International cricket star Danushka Gunathilaka is facing a judge-alone trial at the Downing Centre District Court after pleading not guilty to one charge of sexual assault without consent.
The charge relates to an incident in November last year when it is alleged Mr Gunathilaka removed a condom while having sex – known as stealthing – with a woman at her home in Sydney's east.
Danushka Gunathilaka (pictured outside court in Sydney) has pleaded not guilty to one count of sexual assault without consent
The pair first met at the Opera Bar near the Sydney Opera House, where CCTV footage shows them embracing as they meet, before having drinks together in the city and heading back to the woman's home via ferry.
Crown prosecutor Gabrielle Steedman told the court on Wednesday that the woman decided to go to police the following Saturday, November 5, after discussing the matter with friends.
The woman first reported the matter to Constable Katrina Lackerdis at Rose Bay Police Station. She told the court that she didn't have her police notebook with her so she wrote notes on scrap pieces of paper. 
The court heard that Gunathilaka's alleged victim first spoke to a police officer who wrote her allegations on scraps of paper because she didn't have her notebook with her 
'I recall the (alleged) victim telling me within a short amount of time the accused proceeded to aggressively kiss, push, slap and bite her,' she told the court.
Constable Lackerdis told the court that she then sent photos of her notes to another officer who would be investigating the matter.
The officer was grilled by Mr Gunathilaka's barrister, Murugan Thangaraj SC, who asked if she agreed it was 'important' the conversation be recorded.
'You recorded these notes on scrap pieces of paper didn't you … you threw it out didn't you?' Mr Thangaraj said.
Constable Lackerdis told the court: 'I shouldn't have but I did.'
She told the court that she likely threw the notes out at the end of her shift.
Mr Thangaraj continued to press the officer: 'You were rostered to perform station duties … which includes answering the phone … which includes taking complaints from the public, including serious complaints.
'Police procedure requires you to take proper notes.'
Constable Lackerdis said she used what she had in front of her because her 'priority' was taking accurate and contemporaneous notes.
Mr Thangaraj asked if the police officer had told the alleged victim that she had been sexually assaulted.
The charge against the cricket star (pictured left, outside court) relates to an incident with a woman in Sydney on November 2 last year 
'She told me she'd been sexually assaulted, and then I obtained a version of what had happened,' Constable Lackerdis said.
On Tuesday, messages between the alleged victim and her friends were read to the court. The alleged victim described how Mr Gunathilaka allegedly 'switched' when they began to have sex.
The main issue in the trial is Mr Gunathilaka's state of mind as to whether he removed the condom without the woman's knowledge.
Mr Thangaraj told the court that his client denied having non-consensual unprotected sex with the woman, as there was no opportunity he had to remove the condom.
Meanwhile, the Crown alleges the woman only consented to protected sex.
The trial continues before Judge Huggett.


Post source: Daily mail