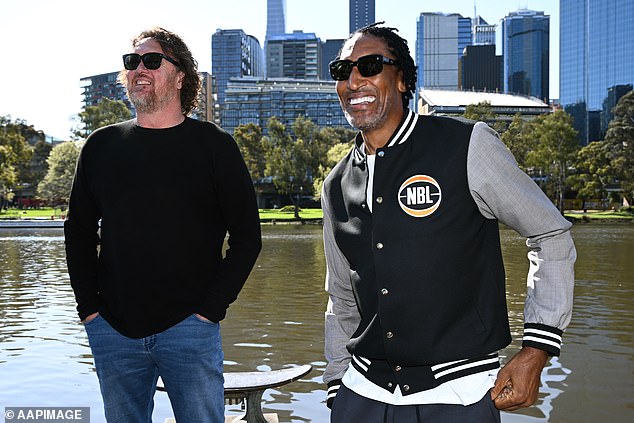 Scottie Pippen almost took a coaching job in Australia 
He came close to joining NBL side the Sydney Kings 
Pippen is close friends with Kings owner Luc Longley 
Scottie Pippen has revealed just how close he came to relocating to Australia after heading Down Under to open the NBL season.
NBA and Chicago Bulls legend Pippen, 58, was in advanced talks to become the coach of Sydney Kings three years ago, with the American forming a strong relationship with former teammate and Kings owner Luc Longley.
However, concerns over the coronavirus pandemic convinced Pippen to turn the opportunity down.     
'We were very close but I wasn't too comfortable with how things were going with Covid,' Pippen told Code Sports. 
'We're very close and he's one of the few teammates I still stay in touch with,' Pippen added of Longley.
Scottie Pippen turned down the opportunity to coach the Sydney Kings
The NBA legend was backed by Kings owner Luc Longley, who played with him at the Bulls
Pippen, a seven-time NBA All Star and two-time Olympic gold medallist, reflected on Longley's influence at the Bulls, with the Australian centre an integral part of the franchise's second three-peat. 
'Luc's impact was just like fine wine in that he got better over time because of his ability to pass the basketball and willingness to be a good teammate.'
Longley, when asked about Pippen's links to the Kings, said: 'It would have been a complex one, he doesn't have a lot of coaching experience, but I do know what his basketball brain is like. 
'He would have been good at capturing the imaginations of the group and leading them.' 
Pippen arrived in Melbourne on Thursday and will join Longley courtside for the NBL season opener between Melbourne United and South East Melbourne Phoenix at John Cain Arena. 


Post source: Daily mail