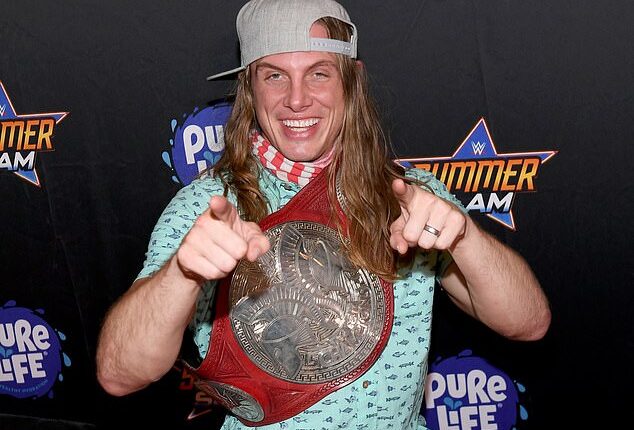 WWE superstar Matt Riddle has announced he is no longer under contract with the company amid another mass release of talent.
Riddle has recently come under fire after alleging he was sexually assaulted by an officer at JFK airport, in a now deleted Instagram post.
After an investigation into the incident Riddle was pulled from Monday Night Raw as well as multiple upcoming live events, despite being a key part of an ongoing storyline.
A day after multiple wrestlers including the likes of Dolph Ziggler and Mustafa Ali were released, Riddle took to X to announce his separation from the company.
'Just wanted to inform everyone that I'm no longer with WWE,' Riddle captioned a picture of himself wearing the United States Championship.
WWE superstar Matt Riddle has announced that he is no longer with the company on X
The former U.S. and Tag Team champion posted the news along with a picture of himself 
Riddle recently shared the accusations in a now-deleted Instagram post including a picture of a supposed officer
'Thank you for the memories and opportunities also thank you to all the fans for the support and love you give me every time I go out to the ring. See you all soon.'
Along with capturing the US title, Riddle was also an NXT Tag Team Champion and Raw Tag Team Champion during his time in the WWE.
The former MMA fighter had been involved in a tag-team storyline with new partner Drew McIntyre, who recently faced off against The New Day's Xavier Woods in Riddle's absence from Monday Night Raw.
The New Day and The Viking Raiders had been in a three-way feud with Riddle and McIntyre, and plans were likely altered with Riddle not on the show.
On the most recent episode of Raw, McIntyre faced off against Jey Uso and potentially shifted his focus to a feud involving Uso and the Judgement Day.
In light of Riddle's departure. that booking decision appears to have been an early indication that the man known as 'The King of the Bros' was no longer going to be involved in WWE programming for the foreseeable future. 
Riddle had been involved in a storyline with new tag team partner Drew McIntyre (pictured)
The now deleted Instagram post from Riddle, which included a muzzled-out image of a man who he claimed assaulted him at the airport, read: 'Nothing like being sexually assaulted by an officer and harassed at the JFK airport.
'No means no and just because I'm nice doesn't mean yes!!! A******!!!
'Don't know their Twitter or Instagram handles but I took pictures, normally I'm like whatever but today was really weird and uncomfortable and they made a point to make me feel small and useless.
'Definitely one of the most uncomfortable travel days I've ever had thanks NYC you're so progressive and accepting!'


Post source: Daily mail