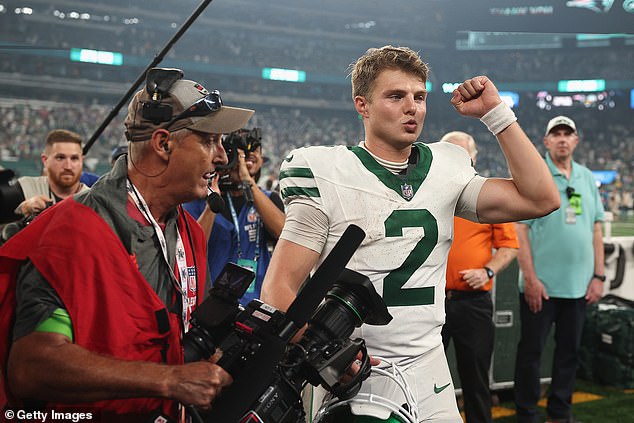 Zach Wilson played most the game for Jets vs Bills after Aaron Rodgers was hurt
But fans still targeted him, despite the team's dramatic win on Monday evening
DailyMail.com provides all the latest international sports news
Footage has emerged of Zach Wilson getting hit by a water bottle thrown by New York Jets fans after Monday's win over Buffalo Bills – prompting an angry response from his mom on Instagram.
Lisa Wilson shared a screengrab of the moment on her Instagram story and wrote: 'This happened after the won the game. Hit him right in the head. Awesome' with a sarcastic thumbs up emoji.
Wilson had been thrusted into center stage for the Jets when Aaron Rodgers was injured in only his fourth snap for the Jets, tearing his Achilles in a season-ending injury after getting sacked by Leonard Floyd of the Bills.
The 24-year-old Wilson, who had expected to be second choice to Rodgers all season, was instead straight in to replace the 39-year-old and despite an inconsistent game the Jets edged the Bills 22-16 in overtime.
But some fans watching the Jets were clearly reacting angrily to the prospect of Wilson being their starting quarterback for the season and threw a water bottle at him as he headed down the tunnel following a dramatic victory. 
A water bottle was thrown at Zach Wilson moments after the Jets beat Buffalo Bills
Lisa, Wilson's mom, took to social media to criticize the fans who threw the bottle at her son
Lisa and Zach pictured together – he is now the No 1 quarterback for the Jets for the season 
At that moment in time, it was unclear precisely what had happened to Rodgers but coach Robert Saleh made it clear he suspected the worst. Those fears were confirmed on Tuesday with Rodgers ruled out for the season with a torn left Achilles.
It means Wilson will now lead the way for the Jets this year – and his mom took to Instagram after the game Monday night to speak about the twist of fate that has thrown her son back onto center stage in the NFL.
'We love @aaronrodgers12. He's been such a great mentor. Heartbreaking,' she wrote in the aftermath.
She continued: 'Watching your kids do hard things, is so much harder than doing them yourself. Not the evening we expected… Just trying to catch my breathe [sic]. I am so overwhelmed by love and support. 
'Literally hundreds of texts and DMs. Some I know and many I have never met. Just know I see you, I can feel you carrying me and I am so grateful to have such amazing people surrounding me and my family. Thank you.'
Saleh, meanwhile, made it clear that Wilson leads the way from now on, amid reports the Jets will sign a veteran quarterback to back him up for the season.
'I want to make it very clear, Zach's our quarterback,' Saleh said. 'We have a lot of faith in Zach. We're rolling with Zach and excited for him.'
Wilson, the former No. 2 overall pick, reportedly had followed Rodgers around like a 'puppy' during preseason.
Rodgers tore his Achilles on the fourth snap of his first appearance for the New York Jets
The Jets coach, Robert Saleh, has insisted it is Wilson who leads the team from now on 
'You would think that there's Velcro between Zach Wilson and Aaron Rodgers,' King told Mike Florio on Pro Football Talk in July. 
'Zach Wilson is like the puppy to the side of Aaron Rodgers. He is always talking to him, he's always trying to suck out information from him.
'Because, I'm sure – I didn't talk to Zach Wilson – but I'm sure Zach Wilson figures "Hey, we do this for two years, and in training camp 2025, whatever, I get a real, legitimate chance to be a quarterback again", and that's how he is taking this.'
Rodgers had spoken glowingly of the 23-year-old, insisting that, despite Wilson's previous comments, he had made him feel welcome in New York. 
'He's been incredible,' Rodgers said in June. 'He hasn't made my life hell everyday. He's been a joy to work with and I give him so much credit because it's a tough situation what he went through.' 


Post source: Daily mail