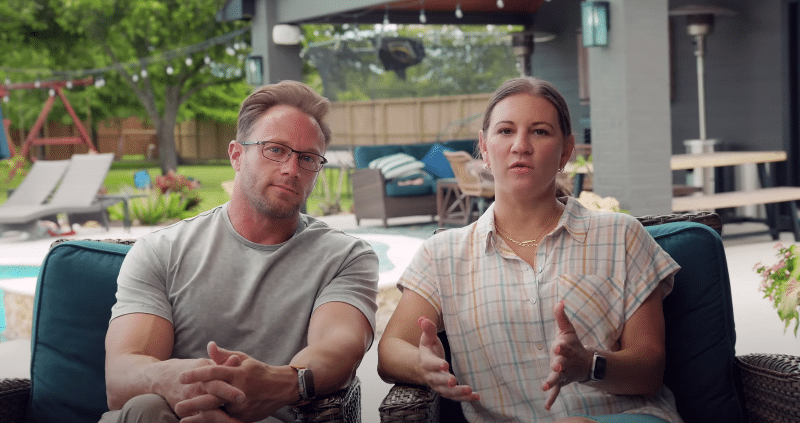 Adam and Danielle Busby were busted by OutDaughtered for lying to them for years after they revealed they'd been hiding a big secret. What was the big secret exactly? And, what did they lie to fans about? Keep reading for the scoop.
Adam & Danielle Busby BUSTED, Lying To Fans For Years?
It was just last week that news broke OutDaughtered would be returning for another season. This news caught fans completely off guard because Season 8 concluded a little over two years ago and there hadn't been a whisper of the show's return.
Now, about a year ago, Adam and Danielle Busby did take to their YouTube channel to discuss the possibility of returning to reality TV. The couple explained they were so busy with their personal lives. The girls were growing up and they just didn't have time to commit to a filming schedule.
Adam and Danielle Busby also explained the pandemic really made filming with such a large family difficult because the rules in place hinder their ability to make filming fun for the girls. Adam and Danielle Busby are very big on making sure getting in front of a camera is something their children want to do. So, if fans ever see photos with a quint missing it is simply because the quint didn't want to be in the photo. And, their parents respect that. The couple explains this is also why there may be interviews and scenes in the show that feature some of the girls, but not others.
At the time, Adam and Danielle concluded the video by admitting they didn't really have immediate plans to return to television. But, they also wanted to make it very clear they were on good terms with the network and their show had not been canceled either.
Did They Lie To Fans In That Video?
In that particular YouTube video and in many responses to comments on social media, Adam and Danielle continued to reassure fans the door was always open for them to return to television. The TLC parents constantly teased fans with the possibility of a new season sometime in the future. In her recent Instagram post, however, Danielle Busby is now admitting she never thought they would return to television. Unfortunately, this does mean the couple spent the last two years lying to fans as they dangled the open door of returning to TV in front of them. In actuality, the couple didn't have plans of returning to filming.
Danielle Busby explained they are only returning to television because it is in God's plan for their family. And, that it certainly wasn't something she or Adam had planned. In their most recent YouTube video, Adam and Danielle admit they've known about their TV return for somewhere between six to nine months now. But, they were forced to keep a lid on it.
Understandably, some fans are questioning why the couple dangled the promise of a "maybe" in front of them for two years when they knew they didn't want to return.
Did Adam and Danielle Busby surprise you with their big news? Are you excited for the new season of their show? Let us know what you think in the comments. And, keep coming back for more Busby news
Latest posts by Trisha Faulkner
(see all)