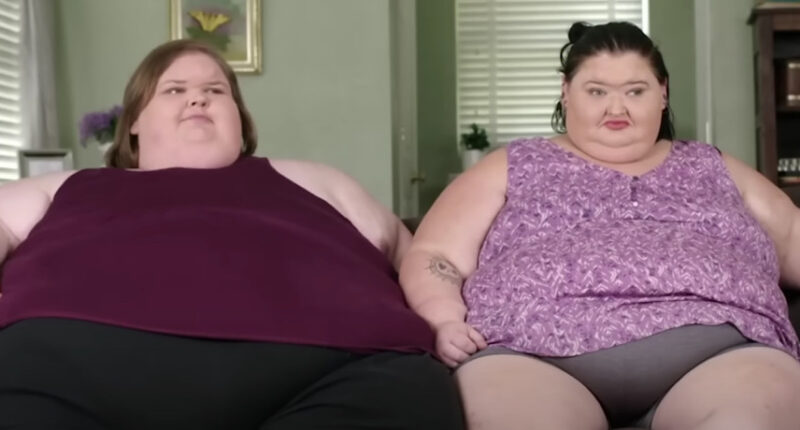 Amy Halterman and Tammy Slaton just freed themselves on a fun sisters' night out. The 1000-Lb. Sisters stars attended a concert together and they looked as happy as ever. This comes on the heels of both of the ladies leaving their marriages and trying to live their best lives. Read on for more details.
Amy Halterman & Tammy Slaton Free Themselves At Concert
It has been quite a year for Amy Halterman and Tammy Slaton. After over a year, Tammy finally was able to leave her weight loss rehab facility. Plus, she received her weight loss surgery and found love which led to marriage. Unfortunately, it seems like her happy life with Caleb Willingham, who she met in rehab, may have already come to an end. As for Amy, her marriage to Michael Halterman has ended in divorce and she is trying to navigate life as a single mother. Luckily, she has Tammy and their sister, Amanda Halterman to lean on.
More so, Amy and Tammy have been going out a lot and enjoying their lives. After all, they missed a chunk of time while Tammy was trying to lose the weight she needed for her surgery. Now, the two women hit a concert, according to People. They attended a Kevin Gates show and even took a selfie to commemorate the moment. It has been a great time for Tammy who has given herself a makeover. She colored her hair a fiery red and made it extra curly. As for Amy Halterman, she has tapped into her more edgy side with darker makeup and filters which she showed off on TikTok.
After fans saw the photo of the girls enjoying themselves, they immediately flocked to the comments. "I'm so happy you sisters can make new memories. Seriously that makes me so happy. Happy you two are healthy and happy. Best gift of 2023," one wrote. Another added: "Tammy has done so bloody well 😍" Finally, one follower shared this: "So happy the two of you can finally do fun things together like go out to concerts!!!🙌👏👏"
Better Together
Followers of Amy Halterman and Tammy Slaton were thrilled to see them out and about together. Moreover, this has been a long time coming. Of course, some wanted to know when a new season of 1000-Lb. Sisters would be coming out. There were talks that some of the cast wanted more money and even a sibling spin-off. However, the show is so immensely popular, there is no doubt it will return in some form for Season 5. As for where Amy and Tammy's futures are headed, it seems like they have freed themselves and it is nothing but up from here.
Are you happy to see Amy and Tammy living their best lives together? Let us know in the comments below.
Latest posts by Amanda Lauren
(see all)