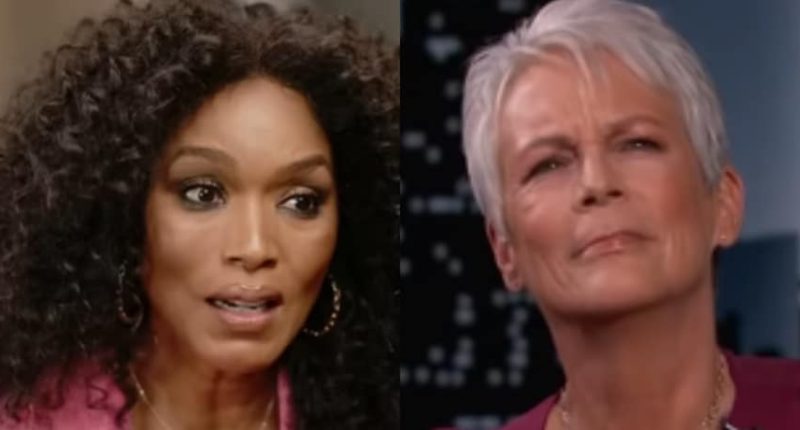 Latest posts by Chanel Adams
(see all)
Fans claim Angela Bassett disrespected Jamie Lee Curtis' crowning moment. The stars crossed paths at the 2023 Oscar Awards, which aired on Sunday night (March 12). Some fans are upset over her loss to her rival. Keep on reading to learn more.
Angela Bassett loses to Jamie Lee Curtis
Jamie Lee Curtis won an award for Best Supporting Actress for her role in the film Everywhere All at Once. Angela Bassett lost out on her first-ever Oscar. Some fans think she was "robbed" of her win and that the show was "rigged." Jamie took to the stage as she accepted her award.
The camera panned over to Angela Bassett, who looked disappointed. She sat in her seat and listened to Jamie Lee's speech. Angela was up for the same award for her role in Black Panther: Wakanda Forever. Jamie Lee fans were excited to see the legendary actress win.
However, Angela Bassett fans weren't as happy. They noticed how sad she looked at that moment. Some of them took to Twitter to express their thoughts. They called out the Academy Awards for snubbing the actress.
"@AngelaBassett should have won the Oscar last night!"
"

y'all know good and damn well Ms.

Angela Bassett

deserved that award but nah y'all done messed up again! Why is it so hard to be fair and honest with these award shows?

"
"Justice for Angela Bassett."
"The INCOMPARABLE @ImAngelaBassett!!! FOREVER a winner in my eyes!!! Love her!!!"
Other fans were hurt by Angela's visible disappointment. The video of her reaction went viral on social media that same night. Angela looks like she's barely reacting. However, fans claim she looked sad as she tried to muster up a smile.
Being a sore loser?
Meanwhile, other critics claim that Angela Bassett was a sore loser. They think she was disrespecting Jamie Lee's big win. At that moment, the cameras focused on all five nominees. Jamie Lee said "Oh, shut up" as she heard her name. She couldn't believe that she won.
Meanwhile, Angela tried to muster up a smile. Some think she wasn't happy over the news. This comes after Jamie Lee admitted that she doesn't like Marvel movies. She doesn't understand the hype with them.
Angela Bassett's reaction hurts me #Oscars 🙁 pic.twitter.com/wUgwJ5TWBA

— philip lewis (@Phil_Lewis_) March 13, 2023
Jamie Lee sparked attention when she criticized the Doctor Strange sequel. She noted the "green screen" and "copycat poster." Some argued that Marvel movies aren't for her. Thankfully, Jamie Lee has never said anything about Wakanda Forever.
Other people think viewers and the media overhyped Angela Bassett's reaction. After all, it's hard to read her face. Do you think Angela Bassett disrespected Jamie Lee's crowning moment? Or, do you think it was overhyped? Sound off below in the comment section.
Check back with TV Shows Ace for more news on Angela Bassett.