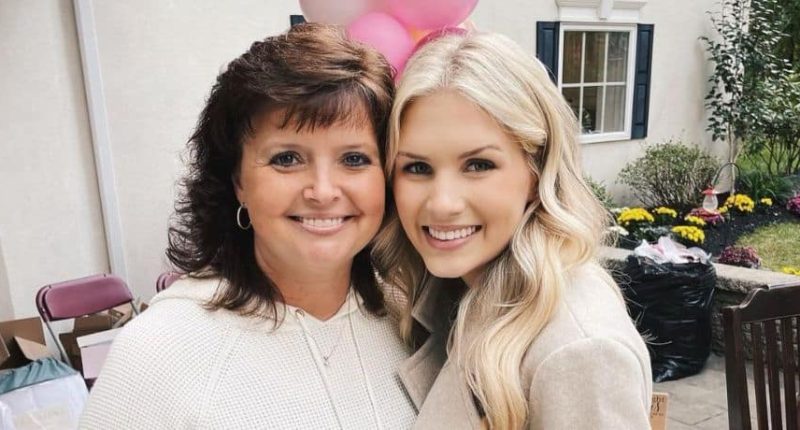 Latest posts by Aubrey Chorpenning
(see all)
Bringing Up Bates star Katie Clark shared a little bit about her mother-in-law (MIL) and what she's done for her lately. Now, fans are giving her high praise. What is Carla Clark doing that's getting her so much love from fans? Keep reading for all of the details.
Who Is Travis Clark's Family?
Because the Bringing Up Bates family has been in the public eye for years, fans know a lot about them. But fans don't know quite as much about the families the adult kids married into. This week, fans got a better look at who Travis Clark's mom Carla really is.
First, you should know who's who in Travis' family. Travis' parents are Carla and Michael. They have three kids. Their firstborn is Kayla, who is pictured below with Carla and Katie. Kayla is 25 and is expecting her first baby very soon. Then, Carla and Michael welcomed their second child, Mike, who is now 24 and is married to a young lady named Deven.
Travis is the youngest and just celebrated his 22nd birthday. Travis is married to Katie. They welcomed their first baby, Hailey, to the world on Feb. 17.
On social media and YouTube, fans may have seen Katie and Travis' posts about his side of the family.
Bringing Up Bates: Katie Clark Gives MIL High Praise
On her Instagram Stories on Wednesday, Katie Clark shared a new post giving her mother-in-law a shoutout. She shared a photo of Carla holding Hailey, who's almost one month old. Then, she explained to fans, "My mother-in-law has been one of the biggest helps the last 3 weeks. She has slept on our living room couch several times to allow me to get a full night's rest and it has been a lifesaver! That repeated broken sleep is exhausting."
The former Bringing Up Bates star acknowledged that Hailey "hit the grandparent lottery."
On Reddit, fans are talking about Carla stepping up in this way. And it looks like many are impressed. For one reason or another, in the past, fans haven't been the biggest fans of the Clarks. But this certainly changed how they feel. One fan said, "She is the grandma I intend to be once my kids start having babies."
Someone else chimed in, "I agree, she's growing on me. She seems like a kind lady.. her crazy husband though is another story but she seems much more motherly than KJ has."
So, do you love how Carla Clark is supporting her son and daughter-in-law? Do you agree that Katie Clark's MIL deserves high praise? Sound off in the comments section below, and come back to TV Shows Ace for more news about the Bringing Up Bates family.