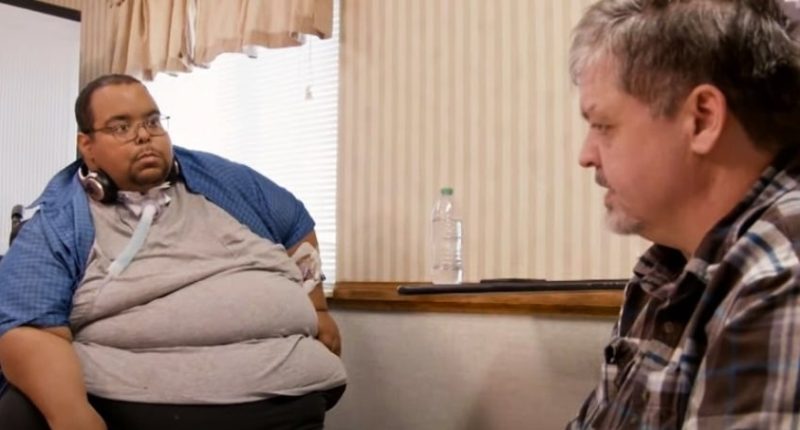 Latest posts by Trisha Faulkner
(see all)
Tammy Slaton's new husband Caleb Willingham isn't exactly in the good graces of 1000-Lb. Sisters fans right now. On the show, Caleb revealed that Tammy was the reason he made his way to the rehab facility. He knew that she was there and her story inspired him. Going to the same facility, he claims he met her and fell in love with her.
Fans take issue with the fact that Caleb Willingham didn't meet Tammy by chance at the facility. He knew of her and that she was there before he started going to the facility. 1000-Lb. Sisters fans are concerned this was borderline stalking and they worry he is just interested in her clout and an easy paycheck.
With the accusations making headlines and fan chatter everywhere, it didn't take long for the accusations to find their way back to Caleb. And, he has taken to his personal Facebook to break his silence on the accusations. What are his intentions with his wife Tammy Slaton? What did he have to say about the accusations against him? Keep reading to see what he had to say about it.
1000-Lb. Sisters fans have mixed feelings on the husband
Tammy Slaton has finally started to turn her life around. She stopped partying. She went to rehab. And, she has lost an impressive amount of weight. Fans admit it is a bit shocking to see Tammy up and moving around because she has been stationary for such a long period of time. Now, of course, fans want Tammy Slaton to find happiness as a married woman. They, however, would have preferred her to focus more on her weight loss journey and get where she needed to be first.
The one thing fans really like about Caleb Willingham is that he obviously isn't someone who is fetishizing Tammy because of her size. This is a man who understands her weight struggles because he shares them. Fans (as well as her family), however, worry that Caleb is going to turn into Tammy's Tammy.
Basically, fans (and her family) worry she's going to end up having to take care of him and continue to not get to enjoy her life because he isn't as serious about weight loss as she is. Chris Combs asked Caleb how he was going to take care of his sister when he can't even presently take care of himself. Moreover, Tammy's sisters wondered how they could have any sort of intimate relationship.
Caleb Willingham breaks stalker and clout chaser accusation silence
Tammy Slaton's husband Caleb took to his Facebook recently to address the accusations against him. He kicked off his post by saying "thank you" to everyone who loves Tammy and supports their marriage. He, however, decided not to come for the people that doubted their relationship. Instead, he thanked them for caring enough to question him.
Caleb Willingham insists that he is NOT a stalker and he is NOT chasing clout. He adds that at the end of the day he and Tammy are two souls in love that are merging into one.
Caleb Willingham considers his wife Tammy to be a "treasure from heaven" and he hopes people can learn to accept him.
What are your feelings toward Caleb Willingham? Share them with us in the comments down below. And, keep coming back for more 1000-Lb. Sisters news.