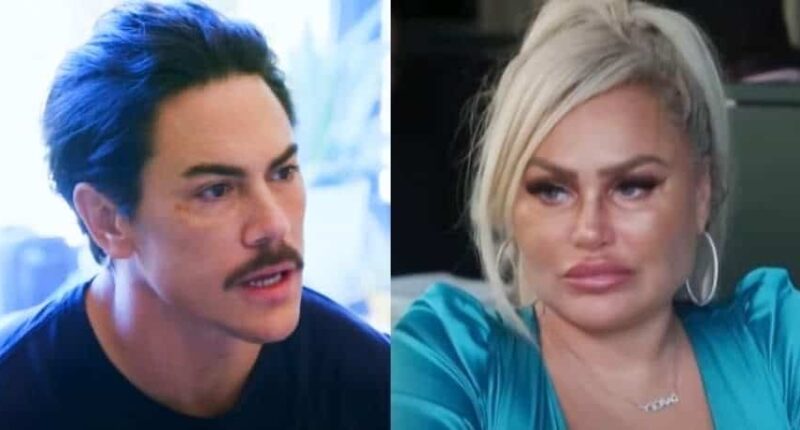 Latest posts by Amanda Lauren
(see all)
Did Tom Sandoval have a fling with a 90 Day Fiance star, Darcey Silva? The Vanderpump Rules cast member is under fire for all of his indiscretions aside from Raquel Leviss. This affair happened despite being in a long-term relationship with his co-star, Ariana Madix. However, more came out prior to and during the Season 10 finale. Then, it was alleged he and the TLC celeb had a moment but was it true? Read on for more details.
Did Tom Sandoval & Darcey Silva Have A 'Fling'?
On May 21st, TV Shows Ace reported that Darcey Silva's daughter Aniko Bollok had made a now-deleted TikTok. In it, she talked about how she and her mother were watching Vanderpump Rules. Then, Darcey casually dropped the bomb that she had a "fling" with Tom Sandoval a decade ago. Putting the pieces together, this would have been as he was transitioning from Kristen Doute to Ariana. Seeing that two more infidelities came out in the finale this was not hard to believe.
Now, Tom Sandoval is responding to these allegations that date back to 2012/2013. According to Us Weekly, Sandoval's rep had this to say: "Tom absolutely did not have an affair with Darcey." It seems that, despite what Aniko learned from her mother, it may be false. However, Tom may not want to look bad after the truth about 'Miami Girl' came out. In Season 3, right after he started dating Ariana, Kristen Doute brought a woman into SUR to confront Tom Sandoval. She went by 'Miami Girl' and it was alleged she had slept with Tom.
He and Ariana disputed this so much so that they ditched their shifts and exited SUR. Now, after the Raquel scandal, Ariana and Tom confirmed he had been with 'Miami Girl' but they kept it under wraps. Plus, he had been unfaithful with another woman so to add Darcey Silva to the mix was a little too much. Keep in mind, Darcey does like the spotlight so it is not unfounded that she would have just said it to be a part of 'Scandoval.'
What Do The Fans Say?
It seemed that fans believed that Tom Sandoval and Darcey Silva had something. More so, they wanted Darcey and her daughter on a podcast for all of the details. "OMG!!!!!!! I CAN NOT COPE. This is like Marvel meets DC," one follower wrote. Finally, one person had this to say and it really does sum it all up: "I don't think we will ever truly know the depths of Scumdavoles traitorous ways." It's been a rough go and something new comes out every day. This may or may not be untrue but it seems that it is not totally unbelievable amongst the fans.
Do you think that Tom Sandoval and Darcey had a fling and he just does not want to admit it? Or, does Darcey want to stay relevant? Let us know and watch Vanderpump Rules Wednesdays on Bravo. Plus, catch 90 Day Fiance Sundays on TLC.