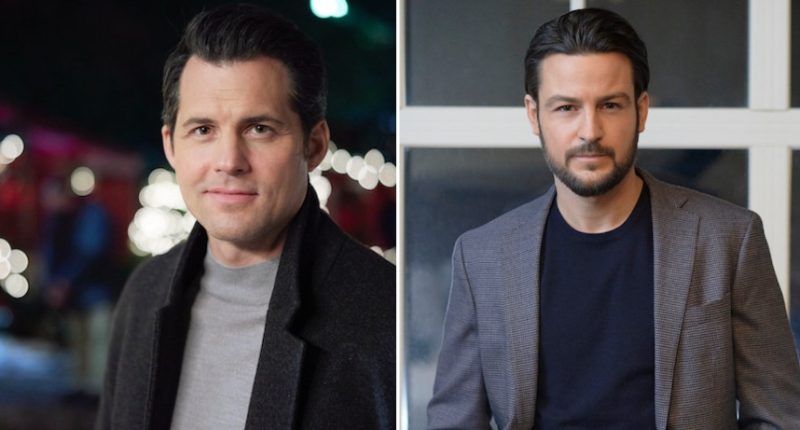 Hallmark's Spring Into Love programming is premiering five new movies in March. This includes another new Signature Mystery, as well as the long-awaited return of Michael Rady!
Moreover, some fan-favorites will be part of this month of movies. This includes Tyler Hynes, Kristoffer Polaha, Paul Campbell, Kimberley Sustad, and Lucifer's Aimee Garcia in her first Hallmark movie.
Ready to learn more? Here are the movies coming up in March.
Hallmark's Game Of Love Kicks Off Spring Into Love
On Saturday, March 11, at 8 p.m., Eastern, on the Hallmark Channel is Game Of Love. This stars Kimberley Sustad and Brooks Darnell.
According to ET, "Audrey (Sustad), a creative board game designer, and Matthew (Darnell), a research-driven marketing consultant, are tasked with creating a new game to help players find romance. Given just weeks to deliver the project, the pair find that they have very different approaches. However, as they try to work together, they discover something they have in common: they each have a lot to learn about love."
Hallmark Movies & Mysteries Premiere Unexpected Grace
On Sunday, March 12, at 7 p.m., Eastern, on Hallmark Movies & Mysteries is Unexpected Grace. This HMM movie stars Erica Durance, Michael Rady, and Erica Tremblay.
In this movie, Grace (Tremblay) discovers a note. This is from a schoolgirl looking for a friend. Grace replies. This propels a series of events that changes Grace's life, as well as the lives of two others.
Winning Team Stars Kristoffer Polaha And Nadia Hatta
Premiering on Saturday, March 18, at 8 p.m., Eastern, on Hallmark is Winning Team. Starring in Winning Team are Nadia Hatta and Kristoffer Polaha.
In this movie, Emily (Hatta), a professional soccer player at the crossroads of her career finds herself coaching. Along with Ian (Polaha), she coaches her niece's team in the playoffs. But along the way, they learn from each other. His laid-back style is opposite to hers, but this makes her rekindle her love of the game.
The Cases Of Mystery Lane Is New Signature Mystery
On Sunday, March 19, at 7 p.m., Eastern, on Hallmark Movies & Mysteries is The Cases Of Mystery Lane. This new Signature Mystery stars Aimee Garcia and Paul Campbell.
Birdie (Garcia) and Alden (Campbell) Case are a couple with some secrets. While Birdie is a successful attorney with a sunny disposition, Alden is floundering a bit. Despite his wit and charm, Alden's inability to hold a job is causing marital friction.
Therefore, Alden keeps his new class a secret. He is learning to become a private investigator. However, while doing his class homework, he finds himself in a spot of trouble. He is now "entangled" in a murder investigation!
Most of all, he needs to tell Birdie the truth because she may know something vital. However, Alden still has some reservations. He believes that birdie is keeping a few secrets herself.
Hallmark's Picture Of Her Pairs Rhiannon Fish And Tyler Hynes
On Saturday, March 25, at 8 p.m., Eastern, on the Hallmark Channel is Picture Of Her starring Rhiannon Fish and Tyler Hynes.
"Beth (Fish) unwittingly becomes the subject of an award-winning magazine's cover and goes on a quest to uncover the true identity of the mystery photographer who snapped her photo."
Stay tuned for more updates.
Latest posts by Georgia Makitalo
(see all)