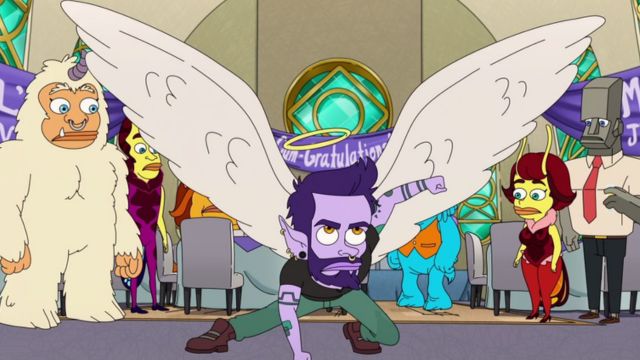 Human Resources has been renewed for a second season, so be ready for more comedy and mayhem. Laugh along with the Hormone Monsters, Depression Kitties, Shame Wizards, and Love Bugs in this office comedy set in the fantastical universe of Big Mouth's monsters.
Human Resources, from an impressive roster of creators that includes Nick Kroll, demonstrates how oddballs are essential in helping people get through the hard patches of life, from adolescence to parenting and beyond. Don't be misled, though; their personal lives are just as loud as their work lives.
Follow the antics of these interesting creatures as they cause mayhem and add a little levity to human existence. What is life, after all, if not for a little madness? The following is the current state of knowledge regarding Season 2 of Human Resources.
Human Resources Season 2 Release Date
Now is the time to binge-watch your way through the crazy world of feelings. On June 9, 2023, Netflix will debut the second season of Human Resources.
Is There a Trailer for Season 2 of "Human Resources"?
On May 11th, 2023, Netflix unveiled the teaser for Season 2 of Human Resources. This clip provides a glimpse into the future of our beloved emotional animals, those that manage human existence as their day job.
These creatures are quirky, bawdy, and funny; they experience the ups and downs of work stress and corporate restraints just like humans do, and they provide a new perspective to the Big Mouth universe.
Check Out: (Official Trailer)
Human Resources Season 2 Cast
The following is true. Netflix announced that the show's core ensemble would all be back for season two. We probably won't hear about any fresh casting announcements until much later, but I'm sure some new performers will join to fill out the cast and bring some new characters into the fold, too.
So far, this is the season 2 cast that has been confirmed:
| Character | Actor |
| --- | --- |
| Maury the Hormone Monster | Nick Kroll |
| Connie the Hormone Monstress | Maya Rudolph |
| Emmy the Lovebug | Aidy Bryant |
| Pete the Logic Rock | Randall Park |
| Rochelle the Lovebug | Keke Palmer |
| Walter the Lovebug | Brandon Kyle Goodman |
| The Shame Wizard | David Thewlis |
Human Resources Season 2 Plot
Even though there aren't any clear plot details for the next season of Human Resources, showrunner Kelly Galuska told Collider before about where the new season might be going.
Galuska is eager to explore a wide variety of emotions and ideas, but one that has really piqued her interest is optimism. Galuska believes that optimism, in a world where it might feel like a rare treasure, is a crucial ingredient humans seek, especially in light of the tumultuous recent years.
She can't wait to delve deeper into this intriguing idea and incorporate it into the show's rich tapestry, which covers the full gamut of human emotion and thought.
Galuska, a storyteller with a remarkable eye for detail, knows that the real stars of the show are the fantastic animals. She's determined to give these one-of-a-kind creatures the recognition they deserve, which is an endearing twist.
Galuska has realized the importance of adopting the viewpoint of the creature, despite the allure of maintaining one's own, more comfortable human perspective.
While waiting for the premiere of Human Resources Season 2, you can watch more shows in the same genre. Some examples of such shows are Skull Island Season 1 and The Grinch 2.
As the story progresses and we learn more about these extraordinary beings, you may expect an exciting new turn. Get ready to be astounded by the unexpected ways in which their viewpoint shapes the human world.
Conclusion
Netflix has renewed Human Resources for a second season, featuring the Hormone Monsters, Depression Kitties, Shame Wizards, and Love Bugs, who manage human existence as their day job. Kelly Galuska is excited to explore the importance of optimism in a world of tumultuous recent years and to give the animals the recognition they deserve.
Read our entertainment Website for the most up-to-date information on films, television shows, albums, and more. Join our group of people who like pop culture and find out about all the latest trends and releases. Have some fun with us!