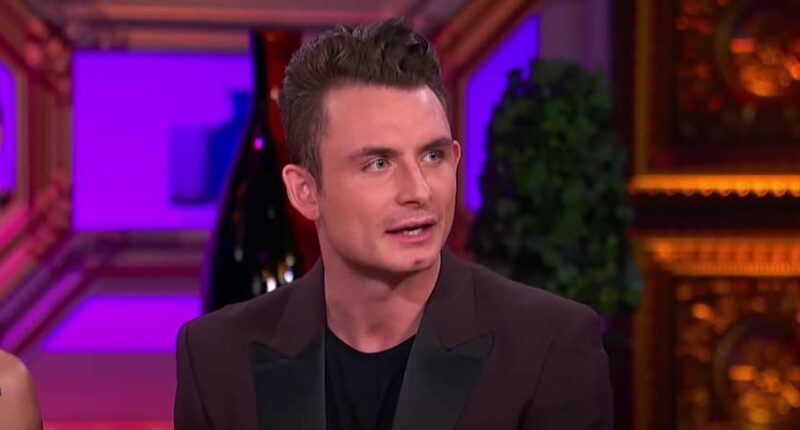 James Kennedy is opening up as to why he cried at the Vanderpump Rules reunion. Tensions were obviously high as this was the first time the tight-knit group has been together since 'Scandoval' broke. Yes, Lala Kent had her suspicions about Tom Sandoval and Raquel Leviss but nothing concrete. So, when the news broke, it really shook the whole cast. Now, James is explaining what caused him to be so emotional. Read on for more details.
James Kennedy Explains What Caused His Tears At Reunion
Viewers have watched James Kennedy since he came onto the scene in Season 3. At the time, he was a busser at SUR and dating Kristen Doute. More so, he had big aspirations of being a DJ but he was dealing with Kristen who was still hung up on her ex, Tom Sandoval. As he moved up, he and Kristen split and he started pursuing new hostess, Lala Kent. By Season 5, he had found his love, Raquel Leviss who was a pageant girl and college student. He had a lot of issues with alcohol and bartender, Jax Taylor.
Oftentimes, James Kennedy would lash out but he would only get emotional when he would get in trouble. It was a long road for him to finally find common ground with the group. In Season 9, he decided to propose to Raquel and Tom Sandoval helped him from soup to nuts. He even helped pay for the proposal. So, when James and Raquel broke up, Sandoval and all of their friends were visibly shocked. Then, the cheating scandal broke and James felt betrayed. In a chat with Interview, James opened up as to what caused him to be so emotional at the reunion.
He admitted that it was "interesting" to see his cast mates' thoughts on 'Scandoval.' The DJ added: "I can't believe that I started shedding tears in the interview space. It just came out. I got really upset about Tom [Sandoval] just because I felt so betrayed. We all lost someone important." When Sandoval tried to undermine his closeness with Kennedy, the cast chimed in. James had looked at Tom Sandoval as an older brother and that was broken.
It's All Over
James Kennedy had previously noted that it felt like they were saying goodbye of sorts when they did the reunion. In his mind, he does not know how the cast will come back from this betrayal. As of now, they have not signed contracts though the show has been renewed for Season 11. Hopefully, he will be back as fans really enjoyed his banter with Lala Kent during part one of the reunion.
Do you understand what caused James Kennedy to get so emotional? More so, do you feel his pain, as well? Let us know and watch Vanderpump Rules Wednesdays on Bravo.
Latest posts by Amanda Lauren
(see all)