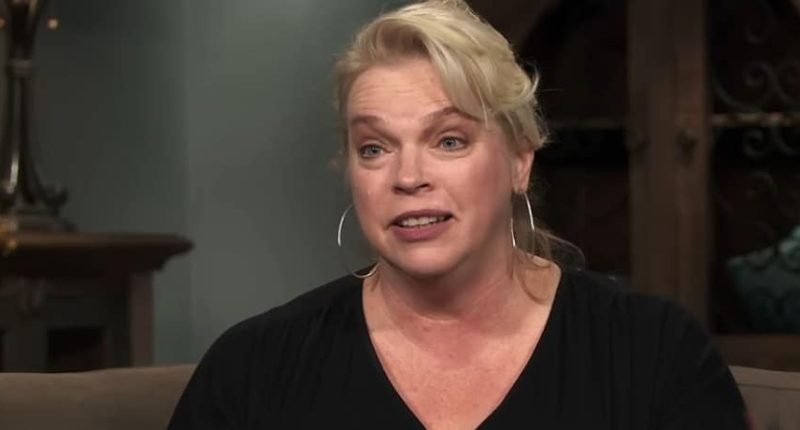 Sister Wives star Janelle Brown shared an adorable picture of a hoarder that lives with her. Now that the mother of six no longer shares her space with Kody Brown, she can have whoever she wants in her house and this cute hoarder is one of her close ones. So, who is the hoarder Janelle Brown is talking about? Keep reading to find out the details!
Janelle Brown Has A Toy Hoarder In the Family
Apart from her six children, Janelle Brown is also a mother to two cute fur babies named Bryn (Brindle) and Obi that joined the family as rescue dogs. While Bryn is a crossbreed between Dachshund and Chihuahua, Obi is a mix between a Labrador and a German Shepherd. Although Obi does live with Janelle at times, he was adopted by Gabe. Not just that, she also has her mom's dog, Jack living with her.
[Source: YouTube]
Over the weekend, Janelle shared a sweet picture of Bryn relaxing in her cozy dog bed surrounded by all her toys. The Sister Wives star captioned the Instagram Story, "The toy hoarder is in 'da house."
Janelle Brown Has To Choose Between Kody And Her Dogs
Janelle has always preferred her kids and her dogs over Kody Brown. In Season 17, the reality star revealed that if she is forced to choose between her pets and her husband sleeping in her bed, she would choose her pets every time. After Janelle gave a tour of her new fifth-wheel trailer to Robyn and her oldest daughters, Aurora asks if the extra bunk beds in Savannah's wing in the trailer are dog beds.
[Source: Instagram]
In her confessional, Janelle reveals, "So I have two dogs. One is Brindle, She's this fat little sausage. And then I have my mom's dog, Jack. So I do have two."
Janelle Brown Will Always Choose Her Dogs And Kids
This came after Kody wanted the dogs to stay outside of the bedroom he shares with Janelle. The Brown family patriarch demanded, "In my mind, I still feel like my bedroom is the sacred place for me and my wife to associate with each other in any variety of ways, and the dogs shouldn't be there."
While exploring the trailer, Kody even quipped about it either being the dogs or him in the bed. He warned Janelle Brown that she will have to pick between him and the dogs. However, in her confessional, Janelle clarified that her dogs are above Kody. She said, "Yeah, dude, I'm sorry. You're here one day in four, maybe three, and I'll choose the dogs. Gonna choose the dogs, gonna choose the kids."
[Source: Instagram]
What do you think of Janelle Brown's cute hoarder? Share your thoughts in the comments and check back with TV Shows Ace for more on Sister Wives!
Latest posts by Priyanka Chandrakar
(see all)