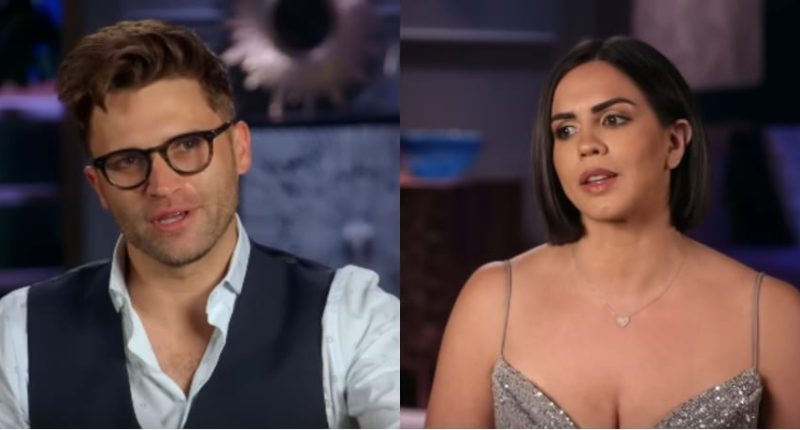 Latest posts by Chanel Adams
(see all)
Katie Maloney had a fierce warning for Tom Schwartz's new girlfriend, Jo. She also shared some new details about the hairstylist. Interestingly, Katie also had this same warning for Raquel Leviss. Keep on reading to learn more and get the details.
Katie Maloney exposes Schwartz's new GF
Vanderpump Rules is an intricate web that continues to weave with its relationships. Katie Maloney shared her thoughts on Tom Schwartz's new girlfriend Jo Wenberg. Schwartz previously denied the rumors. Yet, the two are living together and dating.
Bravo fans are curious about Schwartz's involvement with Tom Sandoval's months-long affair with Raquel Leviss. Real Vanderpump shared a post on Friday, March 17 that his hook-up with Raquel might've been a ploy to also cover up his new relationship. At the time, Schwartz said that he wasn't ready to start a new relationship again.
However, he was secretly dating the mysterious blonde woman. Fans also learned that Jo was living with Schwartz shortly after his split from Katie Maloney. Speaking of which, she spoke out about the theory.
katie on jo… 👀 #pumprules pic.twitter.com/GHxAEKeZn0

— blonde hair 🖤 black heart (@blndhairblckhrt) March 18, 2023
"Jo is Spooky. I mean none of us could stand to be around her," Katie Maloney wrote. "Her energy is on par with a crackhead. But when Tom and I announced our divorce almost a year ago the last thing she text me was 'Bieber loves you / I love you, and I'm so supporting [sic] of your inner thoughts and visions / I live in the moment, you're a gem and I've always respected you. I love you. Xo Jo."
Katie continued to share her thoughts about Schwartz's new woman. She called her a "psycho" and said that she will "light her on fire with Rachel," which is Raquel's birth name. Kristen Doute revealed on Nick Viall's The Viall Files podcast that Jo used to be her best friend. The two had a falling out and then Jo started dating Schwartz, which makes this situation even more strange.
Previously warned Tom Schwartz
Earlier this week, Katie Maloney made an appearance on Watch What Happens Live with Andy Cohen. She shared her thoughts on Sandoval and Raquel's affair. She admitted that she will light Schwartz on fire if he knew what was going on. Andy asked Katie if she feels Schwartz was "willingly" covered for them.
"I would light him on fire," Katie Maloney said on Wednesday's episode.
#WWHL Katie speaks about Scandoval & says that if she finds out Schwartz was covering up for them & lied about it, she would light his ass on fire. She said she hasn't gotten a solid answer yet. Also says there were many red flags about Raquel throughout the season 🫣 #PumpRules pic.twitter.com/J3T1pXifYR

— Daily Bravo 💌 (@dailybravomail) March 16, 2023
She sent that same warning shot on her Instagram feed. Katie shared her WWHL outfit, which consisted of a black cropped hooded sweatshirt with a long transparent skirt. The reality star showed off her thong underneath.
"I'll light you on fire. #pumprules #wwhl," Katie Maloney captioned her post.
All will be seen at the Vanderpump Rules Season 10 reunion. What are your thoughts on Katie Maloney's warning for Tom Schwartz's new girlfriend? Do you believe her? Sound off below in the comment section.
Check back with TV Shows Ace for more news on Katie Maloney.