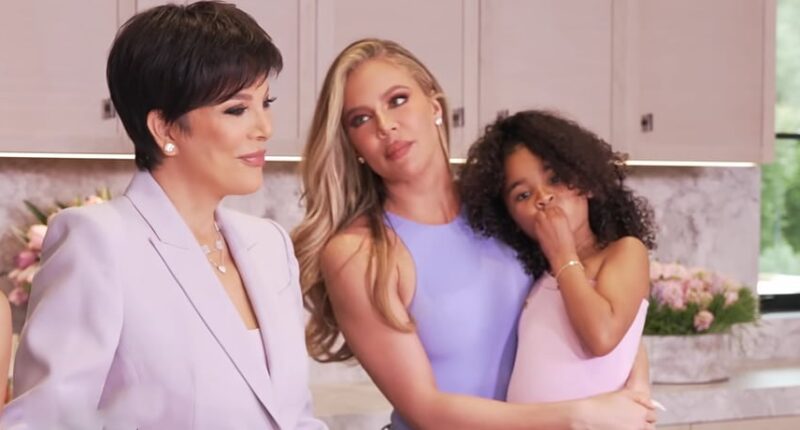 Latest posts by Shawn Lealos
(see all)
Khloe Kardashian's daughter True, 5, just made her acting debut alongside her mother and grandmother in a very cute moment. Here is a look at what she did and what the family is promoting now.
Khloe Kardashian's daughter appears in a new commercial
The Kardashian family is no strangers to promoting products, and they have been lending their name and appearance to several products over the years. Their latest product endorsement deal comes with Country Crock Plant Butter.
The commercials feature Khloe Kardashian with mom Kris Jenner as they cook in the kitchen. This isn't their first commercial for Country Crock Plant Butter, and True was in the last one too. However, she was just part of that commercial, and this time around, she actually got her first-ever speaking role in a commercial.
The last commercial had Khloe and Kris in the kitchen talking about what they love about Country Crock, and making Rice Krispy Treats. Khloe's two kids were standing by their mom while the commercial was ongoing. This new commercial was more comical in nature.
The new commercial has Khloe and Kris competing in a cooking competition. Both are using Country Crock Plant Butter to aid them in their cooking. Khloe remarks that she has a clear advantage because Kris never works in her kitchen anymore and hasn't in a long time. Kris gave a side-eyed look at her daughter but then struggled with her food preparation.
However, Kris then proved that Khloe was right. When her daughter was hard at work, Kris snuck out with her food and traded it with someone else who was working on her food for her in another room. Kris came back and said she was finished. Khloe turned and saw it and said there was no way her mom made that. They then asked True to name the winner and she said the winner was "Country Crock." Khloe agreed there was no argument there.
You can watch the commercial on Instagram here.
Khloe Kardashian is not back with True's dad Tristan Thompson
There have been a lot of rumors lately that Khloe Kardashian was back with True's dad, Tristan Thompson. This really got out of control when Kim Kardashian was at a Los Angeles Lakers basketball game, showing support for Tristan, whose team is in the NBA playoffs. Some fans just jumped to the conclusion that if Kim supports Tristan as he plays basketball, then Khloe must be back with him.
Khloe shot those rumors down fast. "Stop pushing this narrative. It's tiring," she responded. She then said people will continue to push that no matter what she says, so there is no point in even responding anymore. She then compared Kim supporting Tristan to her supporting Scott. They are like their brothers.
What are your thoughts on Khloe Kardashian's daughter making her acting debut in a commercial? Let us know your thoughts in the comments below.