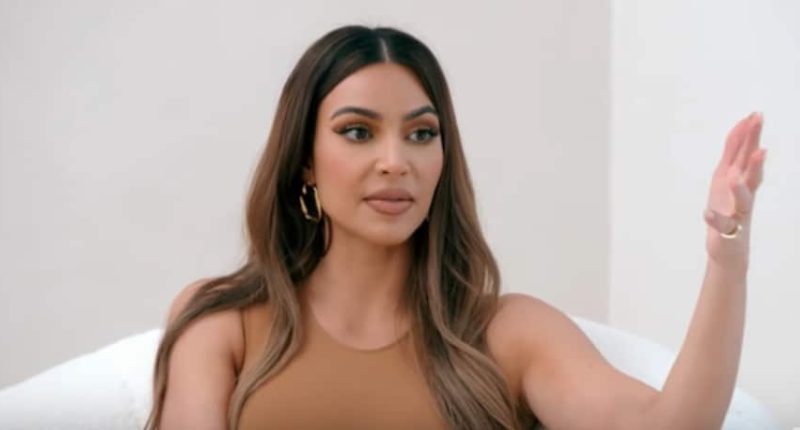 Kim Kardashian sported a new look. The Keeping Up with the Kardashians alum strutted her stuff in a latex tube top and skintight pants. She previously revealed that she's in her "happy era" as both of her exes move on.
The shrinking reality star looked even smaller in the outfit. Kim returned to Miami after attending Art Basel last month. This time, she was there to attend an important event. The head-to-toe black outfit looked striking with her dark black hair. Keep on reading to learn more and see the snaps for yourself.
SKIMS founder rocks head-to-toe black
Kim Kardashian showed off her slim physique at an event in Miami, Florida. She showed off her small waist in a black baroque print blazer, which was buttoned at the midriff. Kim paired the look with a tiny black latex bandeau top and matching skintight pants. She also wore black shiny latex boots and a Gothic-style choker.
She wore her dark hair in waves with a middle part. Per The U.S. Sun, Kim spoke about her private equity fund Skyy Ventures at the iConnections Conference. The city is celebrating hedge fund week. The television personality thought she would put a sexy twist on business chic.
Kim Kardashian Slips on Latex Boots for Miami iConnections Conference – Footwear News… https://t.co/ZszZ6LA8Eq #fashion #style pic.twitter.com/6MeJ8c9N9W

— OmniTee (@omnitee_designs) February 1, 2023
The 42-year-old is worth an estimated $1.8 billion. She rocked head-to-toe black latex as she caught attention. Kim sat next to Skky Partners co-founder and industry veteran Jay Sammons. She's been changing up her look lately. The entrepreneur is hoping to be taken seriously by the finance world.
Kim has taken an interest in venture capitalism. She strutted her stuff as she took to the stage and oozed confidence. When she took to her seat, Kim sat with her legs crossed next to both Jay and iConnections CEO Ron Biscardi, who served as the event moderator. Kim looks different from how she appeared in her recent TikTok video. In fact, fans are still talking about it today.
Kim and Jay Sammons speaking for @SKKYPartners on stage at @iconnections_io Conference in Miami today pic.twitter.com/EHKUcZ4dkm

— Kim Kardashian Updates (@AllForKimK) January 31, 2023
Kim Kardashian's makeup-free TikTok has fans talking
Previously, Kim Kardashian was making news for her TikTok video. She filmed herself without makeup. Fans got a good look at her daily skincare regimen using SKKN by Kim. In the 34-second clip, she wore a black sports bra with matching pants from her SKIMS line of course.
She pulled her dark hair back in a long braided ponytail. Fans couldn't stop talking about the background music. Kim provided the background music with the song "Treacherous Twins" by Drake and Savage, which mentions her in the song. Most of them were buzzing about it while others couldn't stop talking about her ageless beauty.
@kimkardashian

♬ original sound – Kim Kardashian
What are your thoughts on Kim Kardashian wearing head-to-toe latex at the iConnections Conference in Miami? Do you like her business chic look? Sound off below in the comment section.
Check back with TV Shows Ace for more news on Kim Kardashian.
Latest posts by Chanel Adams
(see all)