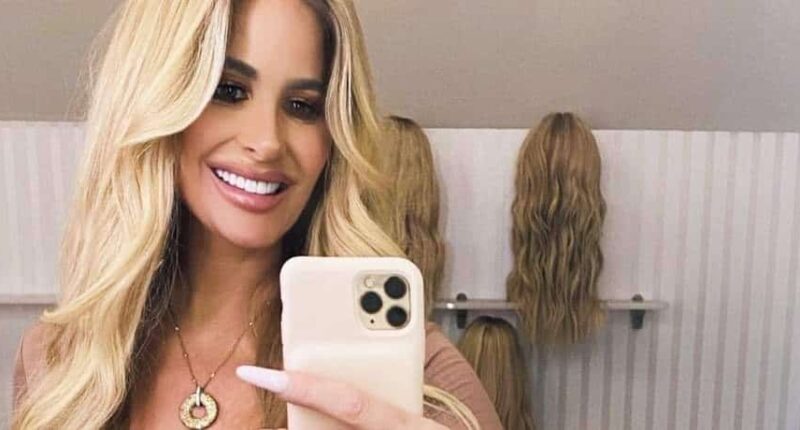 Latest posts by Amanda Lauren
(see all)
Is RHOA alum Kim Zolciak hawking her hair in order to pay her immense debts? She has already expanded sales in her online closet. This comes on the heels of Kim and her estranged husband, Kroy Biermann owing 1.1 million dollars to the IRS. So, what is going on with her hair right now? Read on for more details.
Kim Zolciak Hawks Her Hair To Pay Bills?
Fans of RHOA and Don't Be Tardy are well aware that Kim Zolciak's hair is very important to her. She has worn wigs and pieces since Atlanta first premiered and it became a staple of who she was. Kim finally unveiled her natural hair prior to her wedding to Kroy and it was a cute shoulder-length bob. Of course, she went right back to her wigs and they were not inexpensive as her fame took off. From Season 1 of RHOA to where she is now, it is a drastic difference. Her hair has become a part of her but now she may be parting ways with it.
According to TMZ, Kim Zolciak has added her wigs to her online closet. Now, The Biermann's Closet features items from the whole family. However, it is Kim who has the most extensive and expensive items, some that go as high as 12K. It is usually high-end purses and dresses but now she has added her collection of wigs for purchase. It is not listed under 'Kim's Closet' but rather 'The Salon.' There, fans can find a bevy of wigs and pieces for sale.
There are seven wigs, mostly lace front and of blonde color, some with a touch of shadow. However, there is one dark wig in there for those who do not want to be blonde. They range from $1500 to $2750 and one is already sold out. The description of 'The Salon' reads this: "Enjoy shopping personal pieces from Kim's salon that are slightly worn or even some that are BRAND NEW." Yet, all sales are final with no exchanges or returns.
Making Ends Meet
There is a lot going on between Kim Zolciak and Kroy Biermann right now. She has requested that he get drug tested while he wants her to have a psychiatric evaluation. There has also been a lot of talk about Kim's gambling issues which she was very open about during her time on the RHOA spinoff, Don't Be Tardy. The mother of six blatantly said that she was known at the casinos in Las Vegas. This won't be an easy situation but maybe the wig sales will help with some of the financial struggles.
Would you buy one of Kim Zolciak's wigs or is that too much? Let us know in the comments below.