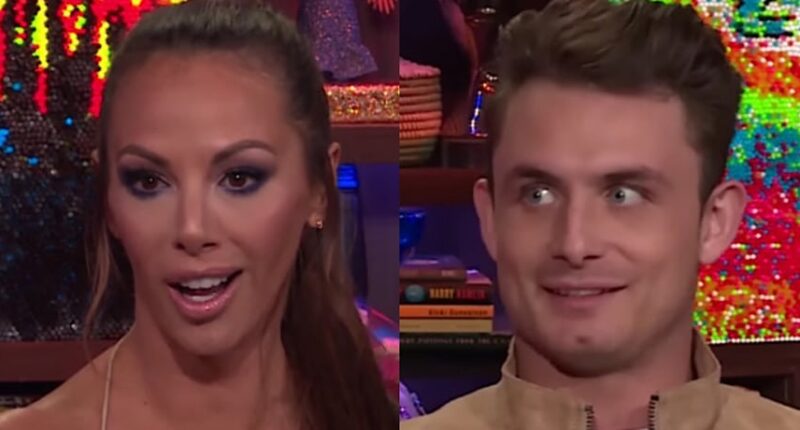 Vanderpump Rules alum Kristen Doute seems ready to watch the downfall of James Kennedy. Fans of the show may recall that they dated during Season 3. Then, they broke up and hooked back up the following Season. After that, Kristen made it her mission to take James down. Though she has been off the show since Season 8, it appears she wants to watch James burn. Why? Read on for more details.
Kristen Doute Grabs Popcorn & Awaits James Kennedy's Downfall
Even after they broke up, Kristen Doute was determined to take James Kennedy down. She started dating him right after she and Tom Sandoval broke up. He was supposed to move in with Sandoval but she snatched the young busboy up for herself. Then, they broke up and she did all she could to find out who he had been cheating with. Even in Season 7, Kristen brought her friend, Hope to SUR to confront James' girlfriend, Raquel Leviss. She wanted her to know that he had been cheating and this was not the only time. At the end of Season 8, Kristen had been fired from the show.
However, her efforts to ruin James Kennedy's life were all for nothing as Leviss stayed with him through Season 9 and they even got engaged. After Leviss and Kennedy parted ways, she went on to have an affair with Tom Sandoval while he was in a long-term relationship with Ariana Madix. Since Kristen Doute had become good friends with Ariana, she returned to Pump Rules for the Season 10 finale. Yet, she still hates James. According to yahoo!, she spoke out on the Good Guys podcast as to why she still holds a grudge.
Kristen shared that she thinks the portrayal of him being this nice guy is just for show. "It's not gonna last long. He can ride the wave this season, because why is he the number one guy in the group? Because he's the only one not screwing up this particular season? Wow, congratulations you're a grown man and you have one good summer of not messing up as badly as everybody else. The truth always comes out … no matter how long it takes."
Friends & Enemies
Kristen Doute did claim that she is friends with all of the OG cast but that does not include James Kennedy in any capacity. More so, she alluded to him having dark skeletons in his closet. Despite her disdain for the DJ, she would not elaborate. Kristen was brought up at the Season 10 reunion in comparison to Tom Sandoval's romance with Ariana Madix. It was also suggested that James only dated Kristen to get on the show. Eventually, everyone said to stop talking about her because that was the past and they had to stay current. Seems like Kristen should take the same advice.
Do you think Kristen Doute should just let it go with James Kennedy? Let us know and watch Vanderpump Rules Wednesdays on Bravo.
Latest posts by Amanda Lauren
(see all)