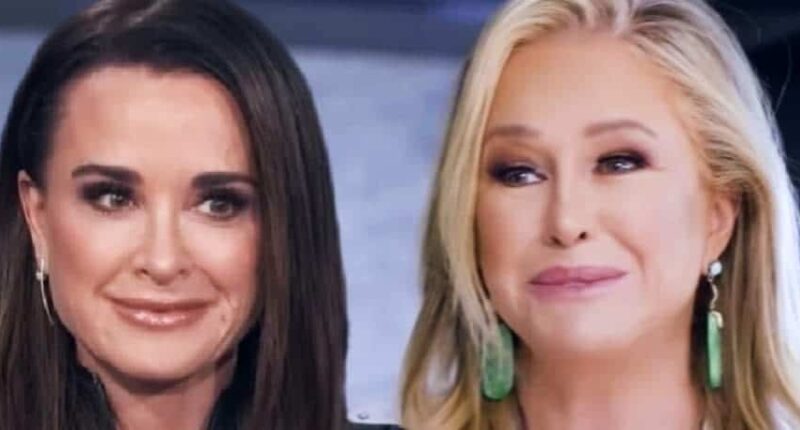 Kyle Richards is taking big steps to reunite with her oldest sister, Kathy Hilton. This comes after a tumultuous Season 12 of RHOBH where Hilton was accused of going off of the rails. She ended up going head-to-head with Lisa Rinna and it became aggressive and volatile. So, what is Kyle trying to do to mend fences? Read on for more details.
Kyle Richards Taking Big Steps To Reunite With Sister, Kathy Hilton
When Kyle Richards' husband, Mauricio Umansky left Kathy Hilton's husband, Rick's real estate agency, that was apparently when things went south. Mauricio branched out on his own and became highly successful. The sisters missed years together, family events, and monumental occasions. To add to that, Kyle created a show loosely based on her mother and her upbringing called American Woman. Both Kathy and their sister, Kim Richards felt betrayed by the show which was eventually canceled after one season.
Once Kyle Richards and Kathy Hilton reconciled, the latter joined the RHOBH for Season 11 and was an immediate hit. She was quirky and far more down to Earth than people expected. As for Kim, she had been an OG cast member who left after Season 5 but was recurring in seasons after. She and Kyle had their own issues as portrayed in the series but Kyle and Kathy were so happy to be back together. They felt that they had missed so much. Then, the cast went to Aspen and one night changed it all. Kathy apparently went off of the rails and Lisa Rinna was there to witness it. This would change Kyle and Kathy's relationship with Lisa quitting the show after the reunion.
According to Radar, Kyle is working really hard to make amends with Kathy. A source shared that they did see each other at one of their niece's bridal showers. Apparently, Kyle is now ready to actually sit and chat with Kathy to work through all that they have been through. Even though the siblings have been seen, smiling for cameras, a source shared this: "Nothing has really changed since the reunion. They're still not speaking. Nobody has made an effort to sit down and patch things up."
Why Now?
Kyle Richards and Kathy Hilton's sister, Kim Richards was back for Season 13 of RHOBH. So, this could be why Kyle wants to make it right so the whole family can partake in events happily together. It seems that Kathy was not a part of filming this season and their feud could be why. Hopefully, they can put all of the drama behind them and come back to center.
Do you think that Kyle Richards and Kathy Hilton are just wasting time not speaking to one another? Is it a positive that Kyle wants to be at peace with her sister? Let us know your thoughts in the comments below.
Latest posts by Amanda Lauren
(see all)