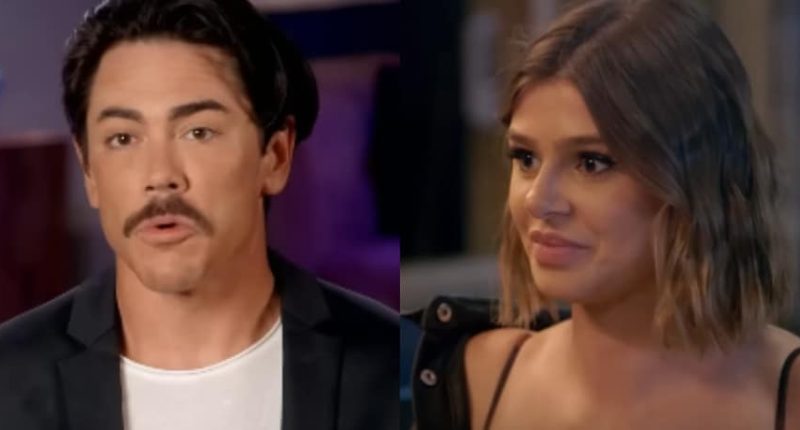 Latest posts by Chanel Adams
(see all)
Raquel Leviss is opening up about "Scandoval." She has laid low ever since the news broke earlier this month. The Vanderpump Rules star traveled to Arizona, where she spent time with her family. Sources claim she was there with Tom Sandoval.
Now, she's back in Los Angeles and she's sharing all about her relationship with him and how it started. Raquel also shares where their future leads them. Keep on reading to learn more.
What Raquel Leviss has said about their future
Raquel Leviss and Tom Sandoval dropped respective statements amid the cheating scandal. She apologized to Ariana Madix in her previous statement. She then followed up with another statement addressing her future with Sandoval. Raquel admitted that she doesn't know where their affair and romance will lead them.
Yet, it wasn't her concern at that particular moment. She wanted to focus on herself during that time. The former pageant queen told fans that she needed to "understand my choices" and "make better ones." Raquel was assuring herself that it was okay to be alone.
"Besides the indefensible circumstances surrounding our relationship, my feelings for Tom have always been sincere and born out of a loving friendship," Raquel Leviss wrote in her statement published on Instagram on March 9.
She revealed that she still cared for him. However, Raquel didn't want to put a "label" on their relationship just yet. The SUR-ver doesn't know what their future entails. She concluded her statement by telling her followers that she "needs to heal" with therapy.
Status of her romance with Tom Sandoval
On Wednesday, March 22, Raquel Leviss willingly spoke to TMZ. She sat by herself in front of a nail salon in Valley Village, which is just minutes away from Sandoval and Ariana's home. Raquel flew back to Los Angeles in time for the Vanderpump Rules Season 10 reunion.
The entire cast is expected to be there in person. Even Scheana Shay despite the temporary restraining order that Raquel filed. She talked to TMZ's reporter about everything involving the scandal, including the status of her romance with Sandoval. She admitted they started out as friends and then it became "something more."
Raquel Leviss fully opened up about Scandoval one day before the "Vanderpump Rules" reunion after staying mum on the drama at the airport just earlier in the day. https://t.co/uTnm1zUtmC

— TMZ (@TMZ) March 22, 2023
Raquel Leviss also shared where they stand. She has no idea where their relationship is currently. They want to focus on the "next steps" and "hear everybody out" at the reunion. Raquel is aware that "everybody is angry" about the affair, understandably.
She says they "don't want to put a label" on it. It's unclear whether Raquel and Sandoval will walk hand-in-hand at the reunion. Do you think Raquel Leviss has a future with Tom Sandoval? Sound off below in the comment section.
Check back with TV Shows Ace for more news on Raquel Leviss.