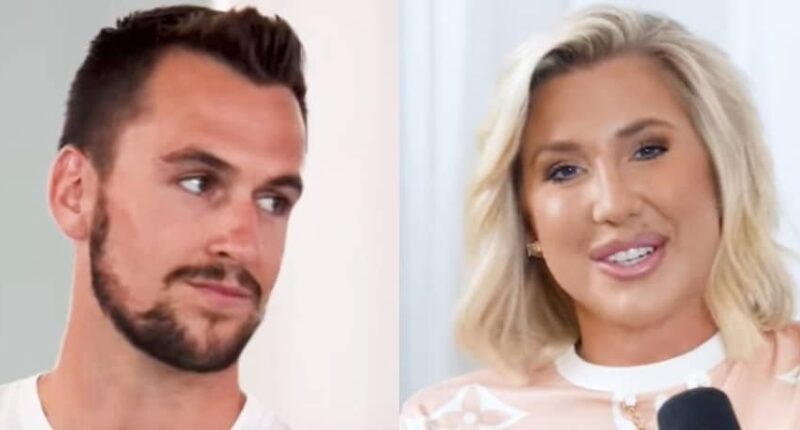 Latest posts by Trisha Faulkner
(see all)
Savannah Chrisley took to her Instagram Stories to brag as she scored big time while continuing to use her ex-fiance Nic Kerdiles. How was she using her ex exactly? And, what did fans have to say about it? Keep reading for the shocking details.
Savannah Chrisley brags about continuing to use Nic Kerdiles
The reality TV princess asked if any of her Instagram followers also continued to use their ex's reward cards to score perks and discounts despite no longer being in a relationship with them. After asking the question, Savannah Chrisley proceeded to explain she was at Kroger and she was getting some gas. Swiping her ex's rewards card, she had two options. She could take $0.20 off a gallon or she could take $0.70 off a gallon.
Savannah fessed up that she did NOT take the high road and enjoyed filling up her tank of gas while scoring $0.70 off a gallon. The reality TV princess proceeded to celebrate as she enjoyed the discount.
Turns out, Savannah Chrisley never bothered to sign up for a Kroger rewards card. So, she just continues to use her ex's card any time she goes to the store. For those unfamiliar with this particular rewards program, basically, the card is swiped every time a purchase is made at Kroger. Points are accumulated as purchases are made. Then, the points can be used to cash in for discounts on gas.
Fans were disgusted to learn what she was doing
Chrisley Knows Best fans were pretty quick to take to fan groups and Reddit to share their thoughts on this brag. For the most part, fans were disgusted that Savannah Chrisley would continue to use her ex's rewards card and cash in on his points. While she didn't outright say it was Nic, fans were pretty sure she was referring to Nic as this was someone she still had a relationship with even if they weren't together.
On Reddit, one frustrated fan noted she should have "kept her veneers shut" and not shared this embarrassing bit of information. Moreover, the fan was disgusted she was so proud of it and thought a lot of people would find it relatable.
Other fans agreed this brag just revealed how much Todd and Julie Chrisley's children were hurting for money with their parents behind bars.
What do you think about Savannah Chrisley continuing to use her ex Nic Kerdiles? Do you think she should just get her own card? Share your answers in the comments. And, keep coming back for all your reality TV news.