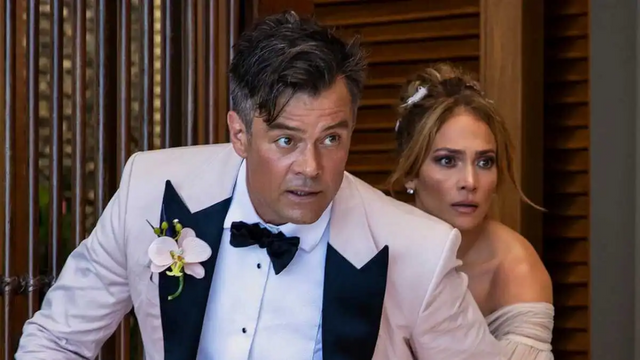 Shotgun Wedding ending explained: American director Jason Moore and writer/actor/comedian Mark Hammer team up for the romantic action comedy film Shotgun Wedding, set to be released in 2022. Jennifer Lopez, Josh Duhamel, Sônia Braga, Jennifer Coolidge, Lenny Kravitz, and Cheech Marin are among the film's stars.
Shotgun Wedding premiered on December 28, 2022, in Singapore, and was made available on Amazon Studios' Prime Video on January 27, 2023.
Shotgun Wedding Storyline
Tom and Darcy have invited their closest friends and family members to join them on a private island in the Philippines for their dream vacation wedding. However, the situation is not ideal. An uncomfortable situation arises when Tom's parents, Carol (Jennifer Coolidge) and Larry Fowler (Steve Coulter), run across Darcy's parents, Renata (Sônia Braga) and Robert (Cheech Marin), who are divorced.
Tom is so preoccupied with planning the perfect wedding that he hands off the final preparations to Darcy the night before the big day. Renata is annoyed by Robert's decision to invite Darcy's ex, Sean (Lenny Kravitz), to the wedding with Robert and his new girlfriend Harriet (D'Arcy Carden).
The next day, Darcy begins to feel nervous as final preparations are made. She had always intended to elope and never considered having a big wedding, but for Tom's sake, she changed her mind. Tom has second thoughts and they have an argument before the ceremony.
Unfortunately, armed pirates have broken into the premises, creating a hostage scenario. The visitors are coerced into entering the pool, where they must present their identification. Furious, Darcy storms back to her room, and Tom watches the mayhem from the hallway. In a panic, he returns to warn Darcy, and only after some difficulty in communicating the gravity of the situation does he manage to express it.
The two of them freak out and run to the restroom for safety. They know he's a successful businessman, so the pirates seek $45 million from Robert. At first, he refuses, but once the pirates guarantee Darcy and Tom's safety, he relents and releases the money.
A culprit in the room discovers and captures the pair, but they break free as they are being led to the pool. They're in a hurry to go through the woods, and in the process, they end up killing several of their pursuers by accident.
At the same time, Carol tries to appear more human to the pirates in the hopes of eliciting some pity from them, and the remaining guests follow her lead. Nothing comes of it, sadly. As the couple uses their hand ties to zipline out from the woodland, Darcy launches a pinless grenade at two more pirates. After assessing the situation at the pool, they decide to call for backup.
Read More: Where Was Shotgun Wedding Filmed? Explored Prime Shooting Locations!
After entering the kitchen, they try to remove their bonds, but Tom hurts his hand. As Darcy faints at the sight of blood, the commotion that ensues attracts another pirate. After a brief battle, Tom manages to drive off the attacker, and they find a safe haven.
Shotgun Wedding Ending Explained: Did Someone Hire the Pirates?
Tom and Darcy were enjoying a wonderful time together until Darcy's ex-boyfriend, Sean, showed over and things quickly descended into chaos. When masked gunmen arrived, however, it gave them time to reflect on the situation, and they remembered how much they love each other.
With that in mind, they decide to work together to eliminate Sean and secure the hostages' safety. They eventually manage to outgun Sean and his men and end up reconciled on the beach. Tom declares his love for Darcy and suggests that they begin their relationship over. But Darcy has other plans and doesn't want to start again because she plans to keep dating Mr. Darcy and spend the rest of her life with him.
Darcy makes a passionate proposal to Tom on one knee. He accepts, and the two of them tie the knot that same evening. Everything was ruined, yet thanks to everyone's efforts, the wedding went on as planned.
Related: