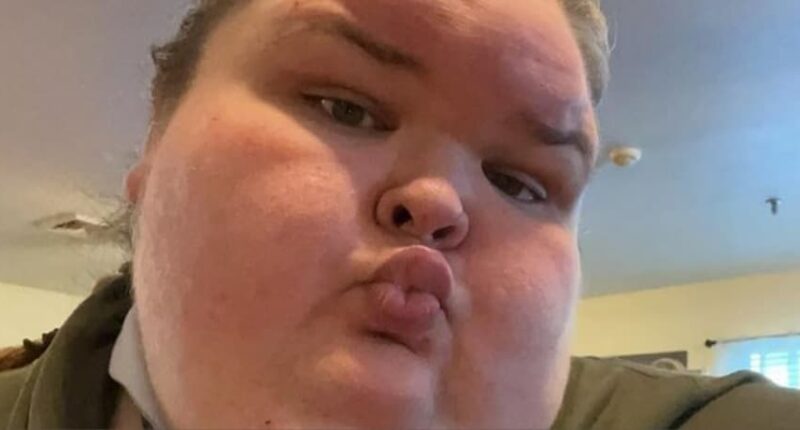 Tammy Slaton couldn't be happier about her slimmer face and frame these days.
The 1000-Lb Sisters star has worked incredibly hard after her stay in rehab. Now that she's back out in the world, she's thrilled to show off her new body and joy for life.
In a new TikTok video, fans were surprised to realize just how much weight Tammy has actually lost. The exact number isn't public knowledge at the moment, but her facial features indicate that she has indeed shed quite a few pounds.
Tammy Slaton rallies her TikTok audience and shows off her features
For nearly a year, Tammy Slaton was absent from social media while she was in rehab. But now, she's back online and ready to interact with her followers.
And most have noticed that Tammy looks entirely different these days.
In her latest social media appearances, she's completely ditched the trach. And in her latest TikTok video, she nearly looks like an entirely different person.
As per usual, it looks as if Tammy is using some sort of filter in the TikTok. But there's no denying that her face actually is much slimmer. Her ginger-dyed hair is a bit messy and pulled out of her face.
But most notably, her oxygen is nowhere in sight. Fans have noticed that in her latest social media appearances, she opts to go without her oxygen.
It isn't a long video and Tammy primarily uploaded it to help one of her fellow TikTokers gain some traction on the platform. But fans couldn't help but notice that the TLC star seems to be keeping the extra weight off for good.
Check out the video here and see for yourself:
@tammyslaton2020

@misshaleymichelle

♬ original sound – Tammy slaton
The 1000-Lb Sisters star shares her true self with the world
Although Tammy Slaton typically uses heavy filters on social media, it seems like she's becoming more comfortable with her natural self. In an Instagram post, shared several unfiltered selfies which fans really appreciated.
"You don't need filters. You have beautiful skin. I would love you to get a sassy red pixie cut. Would be so cute on you," one Instagram follower wrote. 
"You look amazing Tammy. My daughter and I have watched your transformation since day 1.??" another added. 
As far as anyone knows, the TLC star still hasn't received bariatric surgery yet. But if her efforts continue, that really can't be far off. TLC will likely explore that further if 1000-Lb Sisters returns for another season.
What do you think about Tammy's weight loss efforts? Share your thoughts in the comments below.
Follow TV Shows Ace online for the latest stories on Tammy Slaton and the rest of the 1000-Lb Sisters cast. Don't miss out on a single story!
Latest posts by Nikole Behrens
(see all)