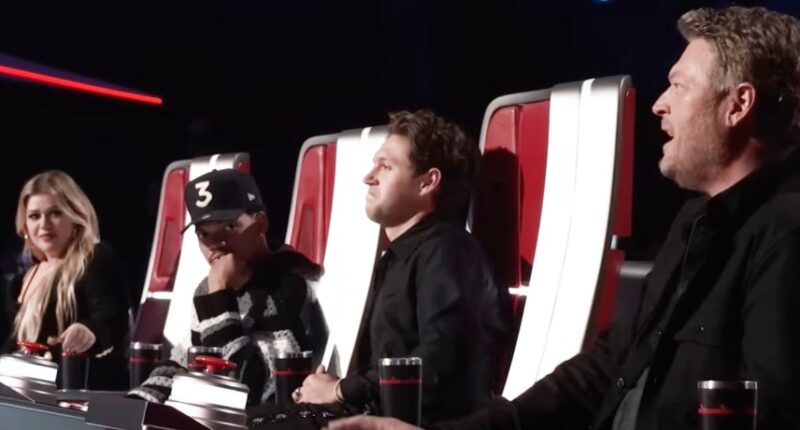 Latest posts by Mandy Robinson
(see all)
Tonight was the big finale of Season 23 of The Voice. This was also Blake Shelton's last season and he will be replaced next season with country superstar Reba McEntire. They started out the show with Blake Shelton walking out on stage to be greeted by Adam Levine. It was down to five finalists tonight.
The Voice Finale
They kicked off the show with an 80s medley performed by CeeLo Green.  He was then joined by Season 13 winner Chloe Kohanski, Bodie from Season 20, Wendy Moten from Season 21, and Season 20 winner Cam Anthony. They were all from Team Blake.
Next up was Niall Horan singing with Gina Miles. They performed "New York State of Mind" by Billy Joel. Then it was time for a performance from Toosii. He sang "Favorite Song."
Then it was time for a sweet tribute to Gwen Stefani and Blake Shelton's relationship. These two are married now but met on the set of The Voice. Gwen will be returning to the show, but it will be without Blake. She wasn't there live and told Blake she would see him at home.
Then it was time for Blake to perform with NOIVAS. They sang Blake's hit song "Home."
lovvvving @noivaswright and @blakeshelton playing a Blake hit !!! pic.twitter.com/sHtu1kHJq5

— The Voice (@NBCTheVoice) May 24, 2023
"Sad In The Summer" was then performed by Diplo and Lily Rose. Then a group from the United States Army performed One Republic's song "I Live." Then it was time for Kelly Clarkson to perform with D. Smooth. They sang "Slow Dance In The Dark" by Joji. This was just the first half of the show.
Second Half Of The Finale
The second half of The Voice finale was full of more great performances. Chance the Rapper then sang "Ooh Child" with Sorelle. After that, it was time for Blake Shelton to perform with Grace West. They sang Blake's song "Lonely Tonight." Maroon 5 performed "Middle Ground" next and it was great to see Adam Levine back again on the stage.
After a big tribute to coach Blake Shelton some fan favorites returned to sing. Bryce Leatherwood winner of The Swon Brothers from Season 4, Raelynn of Season 2, Danielle Bradberry Season 4 Winner, Craig Wayne Boyd Season 7 winner, Sundance Head Season 11 winner, Todd Tilghman Season 18 winner, Cassadee Pope Season 3 winner, Dia Frampton Season 1, Ian Flanigan Season 19, and Xenia Season 1 all joined each other on stage to sing "Good Riddance."
BUDDIES pic.twitter.com/p8ttmlAP34

— The Voice (@NBCTheVoice) May 24, 2023
The Winner of Season 23 of The Voice
Finally, it was time to announce the winner of The Voice 2023. Carson Daly revealed that in 5th place was NOIVAS from Team Blake. 4th place went to Sorelle from Team Chance. In 3rd place, it was D. Smooth from Team Kelly. This means in 2nd place was Grace West from Team Blake and the winner of The Voice 2023 goes to Gina Miles from Team Niall.
we've been waiting alllll season for Gina Miles and @NiallOfficial to perform together ❤️‍🔥 pic.twitter.com/Sy4rbI7l7i

— The Voice (@NBCTheVoice) May 24, 2023
Were you happy with the winner of The Voice 2023? Sound off in the comments below and don't miss The Voice when it returns for a new season on NBC.