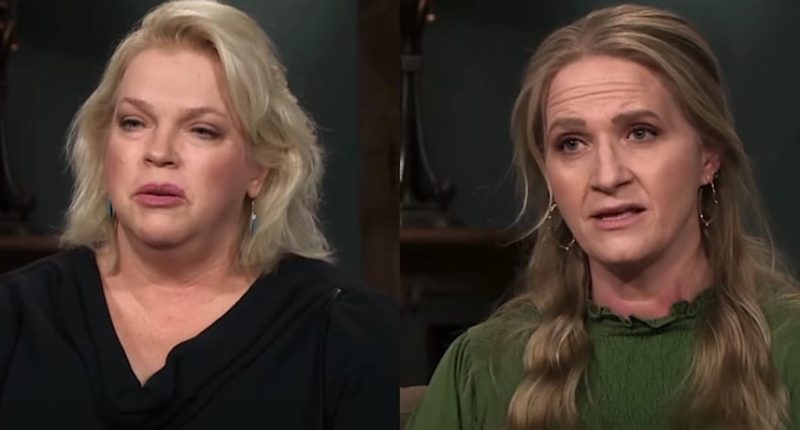 Latest posts by Amanda Lauren
(see all)
Are Sister Wives stars Janelle and Christine Brown still friends? The two ladies have bonded over so much in the last few years and have become incredibly close. However, fans really have not seen them together as they used to. So, has this close friendship fallen apart or are they still a tight unit? Read on for more details.
Wait, Are Janelle & Christine Brown Still Friends?
When Christine Brown announced that she was leaving the family, her former sister wife, Janelle was sad. Yet, she completely understood Christine's reasons for wanting to leave the plural marriage. More so, Janelle could sympathize as to why Christine wanted to leave their husband, Kody Brown. She even felt that Christine getting the profits from the sale of her home was fair in exchange for her Coyote Pass lot. Finally, when Christine shared which of the wives she wanted to stay close to, it was only Janelle. She chose to distance herself from Meri and Robyn.
Furthermore, Janelle and Christine Brown have been in business together, promoting Plexus which means that they've traveled a lot as one. Now, things have changed since Janelle also left Kody and Christine found love with David Woolley. A Reddit thread was started to inquire about the friendship. The OP said that they keep seeing reports that the two are not friends anymore and deferred to an article from The Sun. This article talked about how Janelle launched two businesses apart from Christine yet the latter did the same. Quickly, followers chimed in with their thoughts and reactions.
"They saw each other more often when Christine had to drive to flagstaff every couple of weeks to film. Now Christine is filming in Utah so the opportunities to see each other are less frequent. I doubt there is any more to it than that," one pointed out. Referring to Janelle, a Redditor added this: "Geez, she just had a new grandbaby and was helping out Madison." Finally, one noted: "I think they have a genuine familial bond in a way the other wives don't. They might not hang out all the time or agree on everything, but I think they'll always love and support each other."
A Love Divide?
It has been rumored that Janelle may not be a fan of Christine Brown's boyfriend, David Woolley. However, there is no proof that she has ever even met David. In Season 17, Janelle was super supportive of her sister wife finding love once she left Kody Brown. Therefore, this just seems to be a matter of distance and life changes. In November 2022, Christine's daughter, Mykelti Padron welcomed twins. Then, Christine fell in love with Janelle's daughter, Maddie welcoming her third baby in February 2o23. Only time will tell if they come back together.
Do you think that there is a division between Janelle and Christine Brown? If there is, what do you think the cause is? Let us know in the comments below.