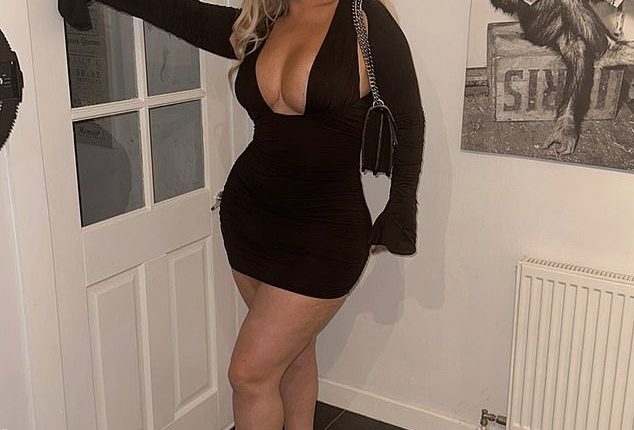 Britain's youngest ever Euromillions winner has revealed she's undergone a second boob job and had another round of liposuction – 10 years after bagging the £1m jackpot. 
Jane Park, 27, showed off the results of her latest surgery on Saturday as she shared a sizzling snap to Instagram. 
She put on a busty display in a plunging black mini dress, which showed off her incredible figure.
Jane boosted her height in a pair of nude heels and accessorised with a stylish black handbag.
Alongside the stunning snaps, Jane penned: 'New boobs first outing'
Wow! Britain's youngest ever Euromillions winner Jane Park has revealed she's undergone a second boob job – 10 years after bagging the £1m jackpot
Alongside the stunning snaps, Jane penned: 'New boobs first outing'
The former chip shop worker, from Edinburgh, flew out to Turkey to have more cosmetic work done.
Jane was just 17 when she scooped the grand prize of £1million on a lucky-dip ticket.
Shortly after bagging the fortune, Jane spent £4,500 on her first breast implants – which took her from a 34B to a 36FF.
Giving her 222,000 Instagram followers an update on how she is doing, Jane thanked fans for their messages and assured them she was feeling 'good' after the recent operations. 
For her most recent surgery, Jane chose to have her implants replaced with smaller alternatives.
The influencer then proceeded to share a 'gruesome' video of the surgeon removing the built up collagen and tissue from around the implant.
She wrote: 'This is the capsule that formed around my implant!!!! I'm just so grateful I actually got those out & that out of my body!'
Jane then added: 'Sorry this is gruesome I know. My implants are now under the muscle & a different type of implant should lower the chances of this happening again.'
The Lottery winner also shared a photo of her old implants and joked that she would be selling them on OnlyFans.
The entrepreneur revealed there had been a slight complication during the operation as her old implant had caused scar tissue to form and that had led to problems.
It's not the first time the cosmetic-surgery lover has run into issues during an operation. In 2017, a Brazilian bum lift almost cost her her life after she contracted sepsis.
Speaking to Philip Scofield and Holly Willoughby on This Morning, Jane said: 'I literally thought that I was going to die.
'I don't know what was wrong with me and they said to me I'd had a reaction to the anaesthetic.'
Wow! Jane Park, 27, showed off the results of her latest surgery in a plunging black mini dress on Saturday as she shared a sizzling snap to Instagram
Update: Jane thanked fans for checking in on her after she'd had the operations but assured everyone she was doing well
Earlier this year, the 27-year-old joined Dr Phil for a special episode of his CBS show, titled 'The Curse of the Lottery' – where she discussed what had happened to her since winning her fortune.
The influencer admitted: 'I don't regret any of the money I've spent, my only regret would be going so public.'
She also revealed she had been subject to abusive comments online where people had labelled her 'stupid' and discussed her decisions.
Jane said: 'These people seem to think they know more about my life and it's hard because when I was younger obviously I read the comments and they affected me.
'These people have never met me, they've probably never seen me.'
Following her life-changing win, Jane was successful in campaigning for the age limit of the lottery to be raised from 16 to 18 in the UK.
During the show, Dr Phil also asked Jane what she thought about the concept 'the curse of the lottery'.
She replied: 'It's a very dark fairy tale that I think no one actually warns you about.'
When she won the lottery in 2013, Jane vowed to spend it on a customised white Range Rover, a season ticket for her beloved Hibernian and a holiday in Ibiza with her friends.
She later returned to working in a chip shop, saying that she preferred a 'working routine' to a life of leisure.
Speaking to the Sunday People in 2017, Jane said: 'I thought it would make it ten times better but it's made it ten times worse. I wish I had no money most days. I say to myself, "My life would be so much easier if I hadn't won."
'People look at me and think, "I wish I had her lifestyle, I wish I had her money." But they don't realise the extent of my stress.'
She said she had struggled to find a boyfriend who wasn't after her money, was sick of shopping for designer items, and missed cheap Benidorm holidays.
She dumped ex-boyfriend Mark Scales in 2015, calling him a 'snake' and said friends had claimed he was after her money.
Her relationship with Connor George also ended in 2016 after issuing him with a list of rules before he went on lads' holiday to Ibiza.
'I have material things but apart from that my life is empty. What is my purpose in life?' she asked.
In 2019, she revealed she was making money by selling racy topless pictures of herself on subscription site OnlyFans.
And she said that family intervention was the only thing that stopped her blowing her entire fortune.
Health: Jane said she knew it wasn't the most glamorous of shots but she wanted to be completely transparent to her followers
Jane Park was just 17 when she won £1million on the EuroMillions but rather than make her happy she says she wouldn't wish the trauma she's been through on anyone
'It is very easy to spend the money and once you become aware that it is yours and how much you have got it becomes even easier,' she explained during an appearance on This Morning.
'You think, "Oh well I've got the money so I can spend it". It just becomes easier to buy more stuff that you don't necessarily need.
'My family said to me "You have spent a bit of it now, you need to think about investing it". So then I got some property and put some away in the bank.
'At some point I had to take their advice or it could have went a completely different way.'
Post source: Trending Today London