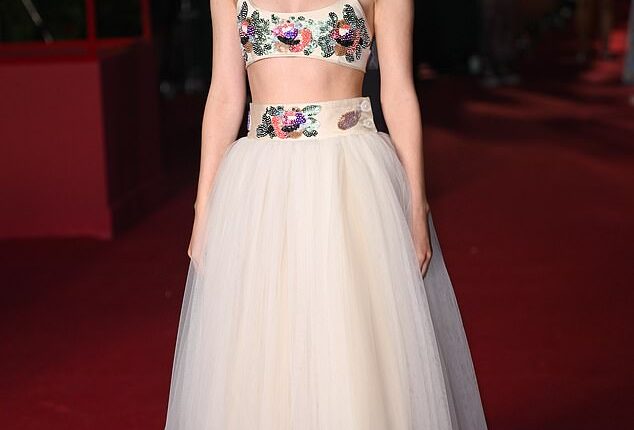 Maude Apatow was resplendent in an all-white Bode ensemble at the Vogue World: London red carpet on Thursday. 
The 25-year-old Euphoria star evoked renaissance core glam with her white hooded veil, which matched her tiny white crop top embroidered with colorful embellishments. 
Her voluminous skirt had a trim that matched her crop top, adding a sense of cohesiveness to her eye-catching feminine look. 
She kept her makeup minimal, pairing a bold red lip with a dab of blush and simple eyeshadow. 
Rounding out her leggy look was a pair of chic strappy heels that didn't draw attention away from her top and skirt combo.  
Angel in white: Maude Apatow looked absolutely stunning at the Vogue World: London red carpet in a chic embroidered Bode white crop top and matching voluminous skirt; seen Thursday 
Belle of the ball: The Knocked Up star's abs were on full display in her elegant number for the night's event; seen Thursday 
The stage and screen actress — who sparked outrage from theater fans who were upset over a 'nepo baby' being cast in the Little Shop of Horrors off-Broadway revival — posted a loving tribute recently to her late, rumored love and Euphoria co-star Angus Cloud. 
'Angus, getting to know and work with you was one of the greatest joys and blessings of my life. I will love you forever,' Judd Apatow's daughter wrote in the caption of a post dedicated to Angus on her Instagram page. 
The pair played love interests on the show, with the Los Angeles born television star adding, 'Words can't really capture how magical of a person he was.' 
Meanwhile, she's also been candid about her feelings regarding being deemed a nepo baby by the internet, Maude told Porter Magazine that it did get to her initially. 
'At first, I was sad… I try not to let it get to me because I obviously understand that I'm in such a lucky position,' the brunette beauty admitted. 
She recognized that she still had a long ways to go so early in her career, adding, 'A lot of people [in a similar position] have proven themselves over the years, so I've got to keep going and make good work.'
With her famous father and actress mother (Leslie Mann), Maude got her start in acting early, with a small role at the age of seven in her dad's film The 40-Year-Old Virgin. 
She also had a number of other supporting roles, including a recurring arc on season four of Girls on Max. 
However, the petite star's breakout role was that of aspiring writer Lexi Howard on Euphoria — she's appeared in both seasons ever since being cast in 2019 on the hit series. 
Keeping it classy: The daughter of Judd Apatow struck an elegant pose in her chic outfit 
Strike a pose: The Girls star looked ready to walk down the aisle in her bridal-centric outfit 
Renaissance woman: The Pantheon starlet also embodied Renaissance chic with her hooded veil 
En pointe: The nepo baby was the epitome of elegance in her two-piece outfit from Bode 
The eyes have it: Looking ready to walk the runway, Maude looked stunning in her classy yet sexy number 
The hardworking actress opened up to Vogue about her hopes for her Euphoria character in the third season in an interview conducted prior to the SAG-AFTRA strike. 
'For Lexi, I hope that whatever she's doing now [after the reported season three time jump], she's a little bit more confident in herself and her abilities and doesn't let that anxiety get in the way of her being able to succeed or do what she wants to in life,' Maude said. 
She added, 'I'm not sure what she wants to do, because Sam hasn't written it, but I have some ideas.'
When asked what ideas she had for Lexi, the Funny People star responded, 'I'd say she's a writer. I don't know in what capacity, but she loves writing. Maybe she's a playwright, or maybe she's just a young struggling writer trying to figure things out.'
Post source: Trending Today London