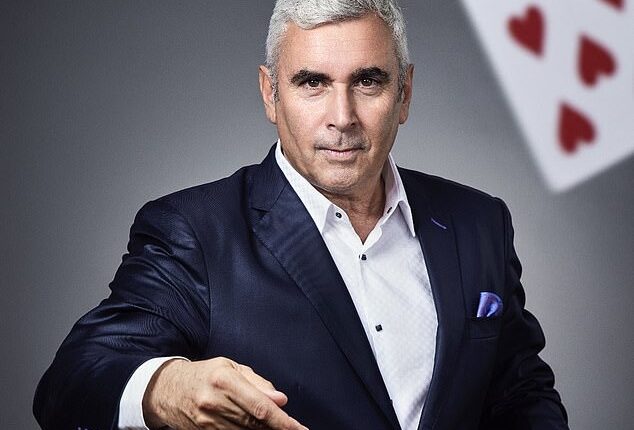 The head of one of Europe's biggest magic companies has been elected president of the most famous magic club in the world.
Marvin Berglas, 64, was chosen to head up the prestigious Magic Circle, which is said to be the UK's oldest magic group and has more than 1700 members worldwide, including the likes of Sooty and King Charles himself. 
Marvin is following in the footsteps of his similarly famous father David, 97, who held the post between 1989 and 1998. 
He told the MailOnline that while he was not initially a fan of magic he did sometimes use a few tricks to show off to girls and entertain bouncers at nightclubs in a bid to get to the front of the queue. 
But he said he was 'bitten by the bug' as a 16-year-old and has since continued his father's legacy after rising to global fame as a master entertainer and owner and creator of his company Marvin's Magic. 
Marvin Berglas, 64, has been elected president of the most famous magic club in the world The Magic Circle
Marvin is following in the footsteps of his similarly famous father David (pictured in potrait behind his son), 97, who held the post between 1989 and 1998
Marvin said he was 'bitten by the bug' as a 16-year-old and has since continued his father's legacy after rising to global fame as a master entertainer and owner and creator of his company Marvin's Magic
A young Marvin Berglas demonstrating in Lyon France 1976
Marvin told MailOnline: 'Magic was part of our life. It was interesting being immersed with some of the best magicians in the world who were also family friends.
'So I grew up with amazing magicians and they inspired me really.'
Marvin said that he really felt a love for the craft after he accompanied his father to the International Magic Convention in Lyon in France. 
He began performing some tricks at the event and 'was really able to impress' the people there and was told that he 'had a flair for it'. 
He said that he would sometimes use his magic for alterior motives such as wowing bouncers in nightclubs to skip to the front of the queue or showing off his skills to impress girls. 
'Magic is such a wonderful thing to have up your sleeve. It's cool if you can just do magic anytime anywhere.'
'That is the thing about magic you can go anywhere around the world and impress people with it. Whatever your age it really takes you back. People really love it.' 
Six weeks after he left school, Marvin hired out Lord's cricket ground in London and put on his own Collectors' Convention which was hugely popular, with people queueing around the grounds to get in. 
Following the success of the event he was sponsored by a national newspaper to do another one shortly after and he later fronted a similar exhibition at Kensington Town Hall. 
Marvin later spotted an opportunity to begin demonstrating card tricks at Hamley's and also spent hundreds of hours demonstrating on TV shopping channels. 
However, Marvin said that his career only really began to take off when, after becoming a top demonstrator at the toy store, he was asked to help them set up a magic department in 1986. 
'They gave me some time to put it together and we launched Marvin's Magic in October 1987.'
Marvin performing magic for former Labour Pirme Minister Tony Blair
Marvin and his wife Alison with David Seaman and Ray Parlour where he entertained at the double winning party in 1998
Marvin performing a demonstration at a trade fair at the Olympia in London in 2019
Marvin at his own magic festival Marvin's Magic Weekend alongside some Marvin's Magic demonstrators including a young Stephen Mulhern
The company has since gone on to have concessions in other stores such Harrods and FAO Schwarz. 
Marvin's company sells two million magic sets a year around the world and have released co-branded sets with British Airways, Disney and Marks and Spencer.
His fame and notoriety in the world of magic has led him to brush shoulders with a number of famous faces over the years.  
In 1993 Marvin was made the first resident magician for Arsenal football club and has performed for a number of past and present players including Dennis Bergkamp, Thierry Henry and current squad members Martin Odegaard and Aaron Ramsdale. 
He has also taught magic to Michael Jackson when he went to visit the Marvin's Magic shop at Hamleys after hours. 
Marvin's father David Berglas is recognised as one of the first magicians to appear on UK television with his own show called Meet David Berglas in 1954. 
Marvin later joined his father on screen aged five along with his brother Peter on the 1960s children's TV show the Five O'Clock Club.
David is renowned world wide as the 'International Man of Mystery' and is well known for pulling of phenomenal feats including making a piano vanish in front of guests at a London hotel banquet room. 
He also once drove blindfolded through traffic in Picadilly with world champion racing driver Graham Hill sat in the passenger seat. 
But the now-retired magician cemented his place in the magician's hall of fame for the creation of his most famous trick The Berglas Effect. 
The trick is a take on a certain type of magic called Any Card at Any Number (ACAAN) and involves a person selecting the number and suit of any card in the deck followed by the position of that card in the deck. 
For example a member of the audience could choose the Six of Clubs and then select the 31st card in a pack of 52. 
The magician would then proceed to turn over that card in the deck to reveal the same card that the person was thinking of, which in this example would be the Six of Clubs. 
Marvin aged 5 (right) making his TV debut with his brother Peter and father David Berglas on their then favourite children's programme ' The five o'clock club'
Marvin and his father entertaining Michael Jackson at Hamleys – Michael often visited Marvin's Magic usually under closed doors 
Marvin woes Arsenal players Martin Odegaard and Aaron Ramsdale for a segment filmed for Sky Sports last season
Marvin featured on a banner in the concourse of the Emirates Stadium in London in 2012
The one thing that seperated his trick from so many others was the fact that David would place the cards on the table and then would not touch them again until he revealed the audience member's card. 
The inexplicable trick has become one of the most-talked about in the business. 
Marvin performs a similar trick for me while interviewing him over the phone. 
He asks me to pick a card at random before directing me to his website where a picture of him holding up the card is string straight back at me.
But despite his love for the grandiose, Marvin says that he prefers magic that is more up close and personal to his audiences. 
'For me I really enjoy slight of hand and misdirection. 
'I love to personalise the magic to the audience you are doing it to so there is more emotion and the audience is inspired.
'Making things appear and diappear in the audience's hands is always fun. It's called up close magic and parlour magic.
'Magic can be utilised in different ways. His trick is totally different in that way to the way that he is able to perform.
'I have favourite tricks that I do for sure but dad's one is the holy grail.
'My magic is more up close and personal whereas dad is more 'international man of mystery'. We have reached the top in a different way.'
He explained that coming up with new tricks to 'adapt with the times' is often a long process which requires a lot of trial and error. 
'It is like music, there are only eight notes and there is only so much you can do with magic. You can only really make something appear or disappear or transform or defy science so many times.
'For some people the solution or method is sometimes more impressive than the trick itself.' 
He said this can be annoying when people spend years on a trick for audiences to only be interested in how it's done, rather than the spectacle itself. 
'It is just a constant process of adaptaton and constant reviewing of audience reactions to determine which tricks work best. That is the main thing really.' 
'My dad told me "learn a few tricks really well rather than learn a lot badly". If you can use a certain trick at the right time you can make a maximum impact.'
Marvin pictured with Derren Brown (middle left) and Dynamo (far right) at his father David' (centre right) 90th birthday in 2016
Marvin at dinner with Arsene Wenger at the World Cup in Qatar in 2022
Marvin pictured outside a windown display of Marvin's Magic sets at Hamleys in 2005
Marvin with Arsenal players in 2000 with a very young Thierry Henry, Tony Adams, Lee Dixon and Alex Manninger (floating)
After becoming president of the Magic Circle Marvin said he is keen to grow the appeal of the craft to reach more people. 
The Magic Circle already has over 1700 members, of which nearly 400 are from outside the UK. It is recognised as the most famous magic club in the world. 
The purpose of the group is to promote and advance the art of magic. Magicians, who have to prove their skill to gain entry, give their word to abide by It's Latin motto (Indocilis privata loqui) translates to 'not apt to disclose secrets', with the word secrets refering to revealing any tricks. 
It was formed in Soho in 1905 and has its headquarters in Euston, London in a building full of magic paraphernalia and posters. Women were admitted in 1990 and now make up 5 per cent of the membership. 
The outgoing President Megan Swann was the first woman to hold the post. The holder of our award for outstanding contribution to UK magic is Fay Presto.
The group also hosts a number of annual events including The Magic Circle Christmas Show which is a fundraising event where all proceeds are donated to The Magic Circle Foundation. 
Members include King Charles III, a member since 1975, Sooty, Stephen Fry, former F1 world champion Nigel Mansell and Debbie McGee. 
'We have some unbelievable magicians of all types. It is an inclusive and diverse club and we are doing some great things.
'There are some great examples of up and coming kids on Britain's Got Talent that are doing great work. 
'But we want to be raising numbers by educating more and more people about magic. We need to adapt with times. 
'We want to inspire people and take them on a journey and utilise all the talent that they have. We need to get people enjoying more and more magic.' 
Post source: Trending Today London