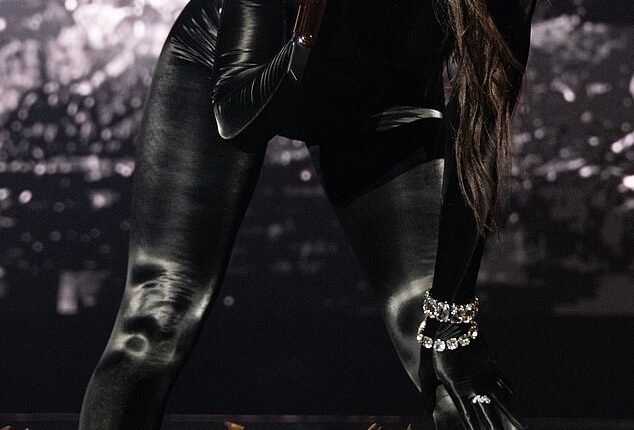 Kelly Rowland and Natasha Beddingfield both put on energetic performances as they took to the stage at the Mighty Hoopla Festival in London's Brockwell Park.
Kelly, 42, sent temperatures soaring as she put on a leggy display in a sizzling black unitard as she put on an incredible show.
The American singer teamed the eye-popping ensemble with some platform ankle boots and black gloves.
The former X Factor judge finished the show-stopping outfit with some diamanté bracelets.
Kelly wore her raven tresses down her shoulders and rocked some popping pink eyeshadow and a glossy lip to stand out from the crowd.
Putting on a performance: Kelly Rowland, 42, sent temperatures soaring as she put on a leggy display in a sizzling black unitard that hugged to her sensational figure
Head turner: Natasha Beddingfield, 41, made sure all eyes were on her in a striking metallic ensemble when she performed at Mighty Hoopla festival
Amazing: Kelly made sure all eyes were on her when she wore a purple and black metallic floor length gown that oozed glamour and sophistication
She turned up the heat during her energetic performance, showing off her incredible dance moves to an entertained crowd.
Meanwhile, Natasha pulled out all the stops as she joined the star-studded line-up performing at the festival.
The Unwritten singer showed off her sensational style in a bold, metallic jumpsuit embellished with sequins.
Adorned in intricate patterns, with a warrior style embellishment down the centre, she teamed the all-in-one with a pair of black platform, leather boots.
The mother-of-one finished the quirky fashion ensemble with a long sequin cape that had stars dotted all over it.
The These Words singer styled her golden locks into natural, tousled waves and opted for a natural make-up look with a slick of pink gloss.
Clearly happy with her set, Natasha posted a video of her performance to her socials with the caption: 'Wow this just happened.'
She could be seen energetically running up and down the stage, with streams of people singing and cheering back at her.
Natasha has long supported the LGBTQ+ community and recently took to Instagram to explain how she felt about performing at the festival amid Pride Month.
She said: 'I m. s o. E x c i t e d. to be singing today right where I grew up – South East London . @mightyhoopla – the most inclusive festival in UK.
Incredible: Kelly was joined on stage by an array of backing dancers as she put on an amazing show 
Turn it up: The former Destiny's Child member put on a show-stopping performance of all her greatest hits
Glam: She made sure to turn heads in her eye-popping ensemble for the star-studded festival
Fashion queen: Donning a sequin cape with stars over the unitard that she paired with platform leather boots, the hitmaker certainly got the crowd going
Pop princess: After her performance the blonde beauty posted a video of the show on her socials of the crowd singing along to all the words to her songs and clapping away
Music mogul: Natasha hit the British pop scene in the 2000's and rose to the spotlight after her debut album Unwritten went three-times Platinum
Glam life: Aside from making music, Natasha is mum to a six-year-old son who she shares with her American businessman husband in Malibu, California
Singing sensation: The GC aka Gemma Collins looking as glamorous as ever also took to the stage to perform at the Mighty Hoopla festival
Glam cam: The Essex beauty wore a big fluffy feather boa, a sequin top and gloves, which she paired with black trousers that had diamanté detailing running up the side of each leg
Stunner: Nadine Coyle certainly caught the eye on Saturday as she wowed in a lime green mini dress while performing at the Mighty Hoopla Festival in London's Brockwell Park
Leggy display: The singer, 37, took to the stage in the bold, thigh-skimming number which she teamed with a pair of racy, white knee-high leather boots
Style: Her dress featured diamante detailing, with the Irish beauty teaming this with a longline black leather jacket
'Right at the beginning of #pridemonth. This is truly special for me. Trying to stay calm – I hardly know how to contain how truly special this is for me.'
Meanwhile, Gemma Collins also performed at Mighty Hoopla and looked as radiant as ever in black trousers with diamanté detailing.
She paired her ensemble with a silver one-shoulder top and a fluffy feather boa as she put on one of her usually eye-catching displays.
Nadine Coyle was also among the stars to show off her vocal talents at the event, taking to the stage in a bold, thigh-skimming number.
Post source: Trending Today London