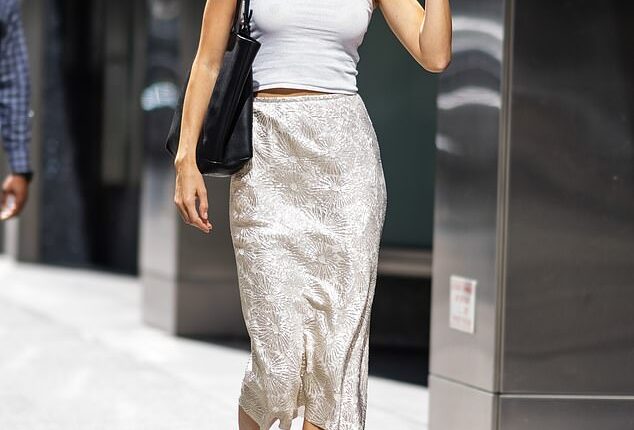 Kendall Jenner was the epitome of effortless elegance while stepping out in New York City on Thursday. 
The 27-year-old runway model went braless in a white tank top that she matched with a long patterned skirt. 
Letting her long, raven-hued locks flow loosely around her shoulders, Kendall hid her face behind sleek brown sunglasses. 
Her shades matched her sensible pair of brown loafers that rounded out her ensemble. 
Choosing to forgo excessive amounts of jewelry, the Keeping Up With The Kardashians star chose to wear a small pair of dainty earrings and carry her belongings in a medium-sized black purse.  
Chic and classy: Kendall Jenner looked effortlessly stylish while out and about in New York City, as she rocked a white tank top and long patterned skirt; seen Thursday 
Leggy lady: The social media influencer kept her ensemble simple and sensible for her outing, letting her glossy hair flow loosely around her shoulders; seen Thursday 
The reality television personality's famous rapper boyfriend, Bad Bunny, was nowhere to be seen during Kendall's solo stroll – although they did enjoy a dinner date together at Carbone on Wednesday. 
She also recently reflected on her first season as a professional model nine years ago during a fall fashion cover interview for W Magazine. 
'My whole first season was super important for me. I was completely in shock over the shows that I was getting, like Chanel and Marc Jacobs,' the leggy beauty admitted. 
She added that, 'I just felt really honored…The production of those shows is so big – I was in awe at the amount of effort that went into them. Everything was such a moment, such a spectacle.' 
The Kendall X Kylie 2.0 Collection co-founder was also seen in the latest teaser for The Kardashians season four on Hulu where she was teased by her younger sister Kylie Jenner, 26, for being almost thirty. 
She was trolled by her older sister Khloe Kardashian, 39, in a similarly amusing way after the 818 Tequila founder shared a sultry Instagram post of herself in a skimpy blue bikini. 
'Shut up Kendall. We know…. You're amazing and you have an amazing dog too,' the Good American clothing line founder joked. 
In addition to being a full time model and social media influencer, Kendall is also a dedicated dog mom to Pyro, her Doberman Pinscher. 
An avid vintage car enthusiast, the 5'9 stunner recently posed with Pyro in her 1960 lilac Cadillac Eldorado, sharing the snap on Instagram for her 294 million Instagram followers.  
Ready to runway: The dressed down beauty looked ready to pose for a fashion campaign as she walked the streets of New York City 
Beauty in blue: The business mogul prompted a cheeky response from her older sister Khloe when she shared a snap of herself in a skimpy blue bikini on Instagram
Pretty in purple: The Hawaii Five-0 star shared a fun snap of herself with Pyro in her 1960 lilac Cadillac Eldorado on Labor Day 
Horsing around: The statuesque beauty also was recently revealed to be the face of Stella McCartney's Winter 2023 campaign 
The dedicated equestrian also posed recently for Stella McCartney's Winter 2023 campaign. 
However, the horse-centered photoshoot generated controversy due to Kendall standing on horses and at one point, even posing naked on the back of a horse. 
However, Stella McCartney clarified after the photos were shared that, "no Photoshop was used in the creation of these images,' in response to the backlash. 
The fashion brand also made sure to note that, 'no animals were harmed on this photoshoot.'  
Post source: Trending Today London