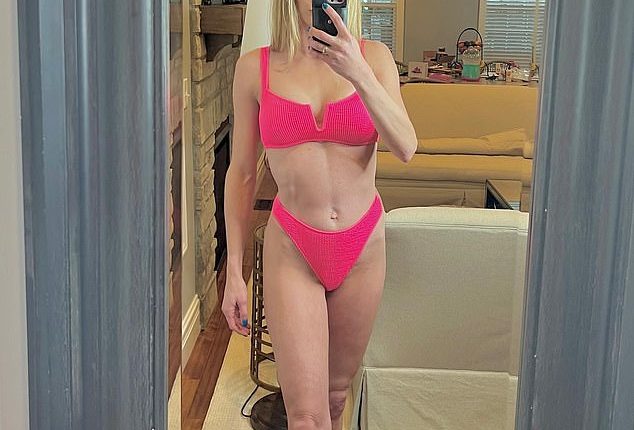 Meghan King shared more before-and-after photos documenting her new chest and 'tweaked' nose after going under the knife last year.  
The RHOC vet, 38, said she had undergone numerous procedures as she posted snaps of her 'enhanced' bikini body.
In her lengthy post, Meghan, who has been posting the results of her surgeries for some time, described feeling more confident after undergoing a breast implant exchange, a 'teeny' rhinoplasty, and Sculptra to her face. 
New year, new you! Meghan King has revealed the results of her recent plastic surgeries as she shared before-and-after photos of her new chest and 'tweaked' nose
Before and after: King showed off her 'tweaked' nose after undergoing a 'teeny' rhinoplasty 
In a lengthy caption, Meghan detailed her decision to open up about her recent surgeries as part of the on-going 'message of authenticity' she hopes to broadcast to fans.
'I guess it's easier to stay true to my #filterfree2023 commitment when I recently made some surgical and non-surgical "filter" adjustments @cosmeticare_ with Dr Niccole,' Meghan began in the post.
'I've always been outspoken about any enhancements I've had (this time I wanted the fullness in my breasts back and a little cleavage, and since I was under anesthesia I opted to tweak the tip of my nose for a minor adjustment.)
She also revealed how her insecurities about the size of her chest led her to ultimate adjust it.
Candid: King got real about her insecurities and staying true to her 'message of authenticity' as she opened up about her surgeries on Instagram 
'My chest is so wide so it always made me feel masculine on the outside but I felt so feminine on the inside and so decided to do this thing called "cosmetic enhancing".
'I ask myself if that aligns with the message of authenticity I want to always send and my answer is, yes, I think it does. Because living authentically doesn't have to make sense to others, my mind is allowed to change and I'm allowed to change.
'I like feeling confident but I'm my biggest critic. I'd love to look at my body and say, "Wow, you're beautiful just the way you are," and now, with the help of a breast implant exchange, a teeny rhino, and some Sculptra to keep my face plump, I do.'
Feeing confident: King posed in a sexy blue look 
The results! King displayed her fuller chest after undergoing a breast implant exchange 
Before: The post included shots of Meghan prior to her surgery 
Meghan marveled at her post-baby body, in awe that it produced three children.
'Plus look at that body! Can you believe it bore 3 kids and gained 70 lbs? Check out that hernia! I earned that! Diastasis! Shall we compare birth stories?!——- The point is not that we judge one another for supposed inconsistencies, but celebrate their authenticity to themself. YOU. ME. We are our OWN bosses, we run our OWN shows, and we report to OURSELVES.'
Meghan shares three children with her ex-husband Jim Edmonds – daughter Aspen, six, and four-year-old twins Hayes and Hart.
She remarried following her divorce from Edmonds, tying the knot with Cuffe Biden Owens, President Joe Biden's nephew, in 2021. The couple tied the knot in Pennsylvania in a wedding that was attended by the president and his wife, First Lady Dr. Jill Biden.
"I've always been outspoken about any enhancements I've had': King shared photos of her in the midst of one of her procedures 
Touch up: She shared snaps of her doctor taking note of her face
However just a few months later Meghan revealed their relationship had ended. 
The post comes as Meghan's ex Jim Edmonds slammed Meghan during an interview with his new wife Kortnie O'Conner on the Hollywood Raw podcast with Dax Holt and Adam Glyn.
Kortnie alleged Jim and Meghan initially were able to exchange their children in present as part of their co-parenting arrangement but now rely on a nanny to do the hand off. 
'In the beginning they we were able to see each other and exchange the kids and stuff, but now it's gotten to the point where we have a nanny doing it and I think that's better.'
Busy mom: Meghan shares three children with her ex-husband Jim Edmonds – daughter Aspen, six, and four-year-old twins Hayes and Hart
Jim also addressed the two orders of protection Meghan had filed against him last year before eventually dismissing them.
Jim hinted the entire thing was just a PR stunt as he detailed the matter. 
'This has happened right before we got married, so it was like right of perfect timing and right before we get married she had, you know, it appeared and I was like, can you send me a copy of it? I wanna see it. And I'm like, wanna see what? Cause you have to allege something in order to get one,' Kortnie said. 
'Because the protection order is fear of,' Jim began. 
'Your life,' Kortnie added. 'And the date was three months ago. And I'm like, so you're in danger of your life. But this was three months ago. It was filed or per like, she had it written up. It was never served to us. No one ever came here. Three months later. We've had the kids, we've seen her, she's been at the house.'  
The ex factor: Meghan shares three children with her ex-husband Jim Edmonds – daughter Aspen, six, and four-year-old twins Hayes and Hart
'It really never got filed but obviously it made the media,' Jim said. 
Kortnie said she asked to see a copy of the paperwork after learning a media outlet was about to report on it.
'Let me see, before they do this, it's not real. Like you have to serve someone,' she said.  
'Then, when my lawyer got ahold of the paperwork, it was said, it was written by a child's handwriting, basically. Like she filled the whole thing out herself and sent it into the police station. So who, God knows what's going on,' Jim said.
New love: Edmonds has moved on, marrying Kortnie O'Conner last year
'It's really funny, she said this earlier,' he said, referring to Kortnie. '"The wedding's getting close, what is she going to do to try and trump our wedding?" And kind of that showed up,' Jim said. 
He also once again denied allegations he cheated on Meghan with their nanny Carly.
Edmonds also insisted he did not marry Kortnie on Meghan's birthday.
'It was on the 25th by the way,' Edmonds said of their September 2022 wedding. 'I don't know if the truth has come out of [King's] mouth since her and I have been together. So, I can give you an entire list and if not all three years of just straight lies.'
Post source: Trending Today London