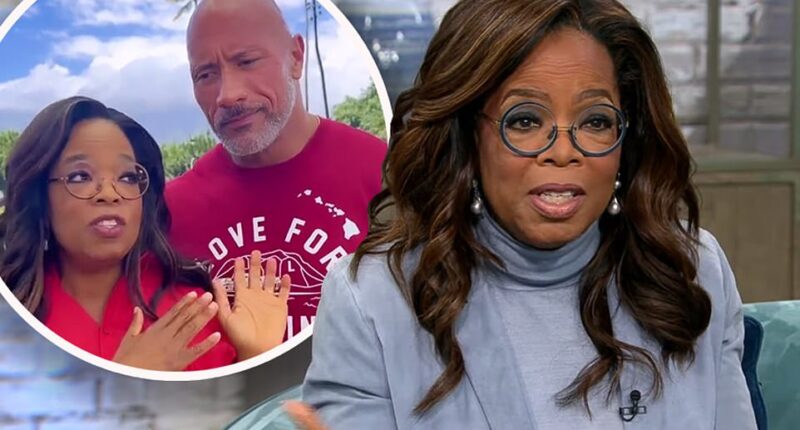 Nearly two weeks after Oprah Winfrey and Dwayne Johnson launched their fund to help Maui wildfire victims, Oprah is responding to the backlash. Both Winfrey, 69, and Johnson, 52, committed $5 million each to get the People's Fund of Maui started, stating in a video that the money would be directly distributed to those in need who were affected by the fires in the historical town of Lahaina.
However, many were angered that Winfrey – with a reported net worth of $2.8 billion – and Johnson – reportedly worth $800 million – are still asking for fans to chip in. Winfrey appeared on CBS Mornings on Tuesday with co-author Arthur C. Brooks to promote their book Build the Life You Want: The Art and Science of Getting Happier. During the extensive interview, Winfrey was asked about the backlash to the fund, which surprised her.
She reflected on one of the lessons of her new book, adding, 'Well, this is a really great point about being happier in the midst of an onslaught of being terrorized and villified online. I will say this. I came out of this experience with so much more compassion for young kids, because I was thinking, what if I didn't really know who I am? It will take you out. So all of the online attacks, lies, conspiracy theories, really took the focus off of what was the most important thing, which is the people of Maui,' Oprah explained.
'So this idea came about because I was on the ground, talking to lots of people, trying to figure out how I can best help,' she said, adding in the beginning she was giving out 'material things' and 'dropping off generators and towels.' 'Then I started talking to people and people really wanted their own agency,' she said, adding Gayle King's son sent her an article about Dolly Parton, who organized her support fund to aid victims of the 2017 Gatlinburg, Tennessee fires. She added that Parton had a concert and raised $12.5 million for the people and distributed the funds to them herself, $1,000 a month
For that, Dolly had thrown a concert, and all proceeds were going to given directly to the families who had lost a significant amount of their homes and belongings. Many of them received $1,000 from Dolly herself. 'I thought, Whoa! That's the idea. Getting the money into the hands directly into the hands of the people set up the end structure for that,' she said. 'We thought, because both of us have given to charities our whole lives, that starting the fund with $10 million would be a great idea. We'll do what Dolly did, get other people to give money and then we'll put it directly into people's bank accounts,' Oprah explained. 'I was so excited. I was so excited about it, and then I got up the next morning, and I saw all of this vitriol, and I was, like, Whoa, what happened here?' Oprah explained.
'This is what I want to say. I want to say that, in the beginning, so many people were calling, asking, Where do we give our money to? So I thought, I'm going to give people a place to give it,' Oprah explained. 'We're going to create something and I still think it's a really strong idea. Dolly Parton was right. Putting money directly in the hands of the people is a significant thing, and the model that has been created, I will say that as of today, 2,200 people have been cleared and verified, and those people are gonna get a notice from the People's Fund of Maui and are gonna have the money put into their account,' Oprah explained, adding the vitriol made her, 'sad that we're in this state in our country.'
The Maui wildfires known collectively as the 'Hawaii Firestorm' started in early August, primarily on the island of Maui. The fires were attributed to a combination of factors including dry conditions started by a high-pressure area to the north and Hurricane Dora to the south. The fires ravaged the historica area known as Lahaina, with 115 confirmed casualties with 66 people still missing as of Saturday.
The Federal Emergency Management Agency (FEMA) estimated that 2,200 buildings were destroyed in Lahaina, many of which were residential buildings and many others quite historic in nature. The United States Department of Commerce estimated the damage caused by the fires to be upwards of $5.5 billion.
A Maui County update published on Sunday revealed the Lahaina fire is now 100% contained, with 2,170 acres burned. The update also revealed that the Olinda fire was 90% contained, spanning an estimated 1,081 acres.
Want more stories like this from the Daily Mail? Visit our profile page here and hit the follow button above for more of the news you need.