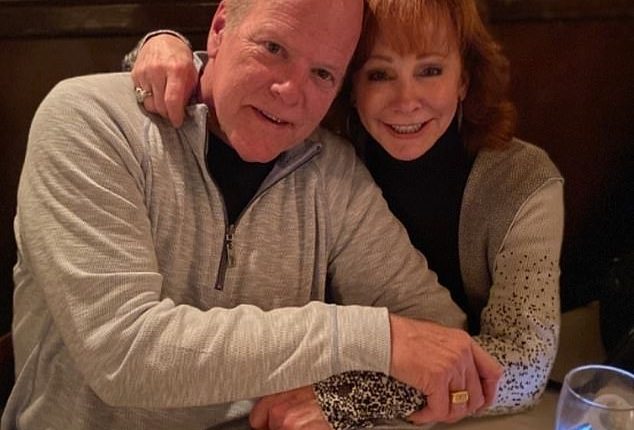 Reba McEntire and actor Rex Linn have been a couple for a bit more than three years. 
On Wednesday's episode of the Jennifer Hudson Show, the Fancy singer, 68, opened up about her first date with Rex, 66.
The two were both cast on The Young Sheldon, reuniting as friends for the first time since they both appeared in 1991's The Gambler Returns: The Luck of the Draw.
'Rex texted me and said, "You gonna be in town?" I said, "Yeah." He said, "Well, let's go to dinner,"' she said.
'We all went to dinner, had a good time, went down the street to a wine bar, and they said, 'Well, I understand you've already had dinner, but we do have some good appetizers," she added. 
Tater tots: Reba McEntire opened up about how she first bonded with boyfriend Rex Linn and what their nicknames for each other are
She asked the wine bar what they had and they said 'Tater tots,' prompting the Big Sky star to enthusiastically raise her hand in support of eating tater tots.
'And so Rex said, 'That's your nickname from here on out — Tater Tot," she explained, adding that she calls Rex 'Sugar Tot.'
'We're the tots — sugar and tater. So, we've been together ever since. He's a sweetheart,' she added.
And fittingly, Reba, who has been married and divorced twice, went red carpet official with him at the 2020 CMA Awards. 
And Reba also dished on how she met her idol Aretha Franklin with the Dreamgirls star.
'I got to meet her, she scared me to death, I wouldn't even go up to talk to her,' McEntire said.
The American Idol alum, added, 'Yeah that scared me too… I got to meet her in Washington, D.C. at Christmas in Washington, and she's just amazing.'
And then the duo performed a duet of Aretha's signature song from 1967, Respect.
Sugar tot: 'We're the tots — sugar and tater. So, we've been together ever since. He's a sweetheart,' she said
Red carpet debut: The couple, who started dating in January 2020, made their red carpet debut at that year's CMA Awards
Reba is from Nashville, Tennessee and on Tuesday, the country music legend paid tribute to the lives lost in The Covenant School shooting on her Instagram. 
'My heart goes out to the families, friends & loved ones of the victims of yesterday's tragedy at The Covenant School in my home city of Nashville, TN.'
'I pray that our country will come together and find a solution to stop this from ever happening again,' she added.
Reba also is taking time to remember her late mother with a tribute to her in her restaurant Atoka, Oklahoma.
Meet cute: The actors have known each other since 1991 when they shot a movie together
The restaurant contains items and mementos from the Reba's life and career – from gold records, to stage wear and beyond. 
But nestled up on the second floor is a bookcase filled with her mother's books. 
Her mom, who was a teacher, passed away in 2020. In a video tour of her restaurant, the Turn on the Radio singer paused in front of the bookcase.
'Mama never threw a book away,' McEntire said. 'Every bedroom, every room except the kitchen had books in it.'
Post source: Trending Today London