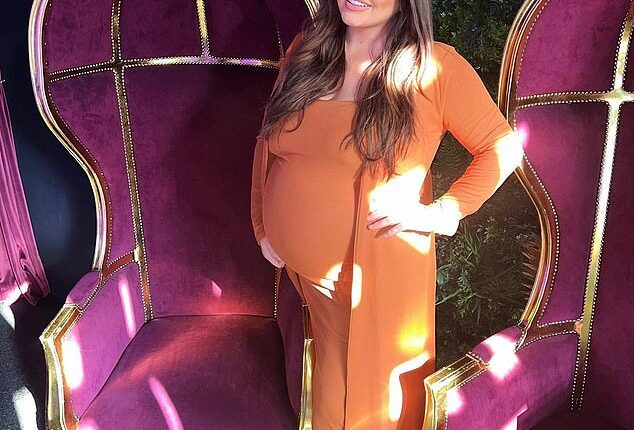 Pregnant Scarlett Moffatt shows off her blossoming baby bump in orange dress and says she is looking forward to meeting her 'little boy'
She will soon welcome her first child with partner Scott Dobinson.
And Scarlett Moffat showcased her blossoming bump on Instagram in a candid shot on Saturday.
The former Gogglebox star, 32, shared a stunning picture in a burnt orange figure-hugging dress and matching cardigan.
Scarlett looked positively glowing as she cradled her large bump standing next to what looked like purple throne style chairs.
The soon-to-be mum styled her hair in loose waves and donned a glowy makeup look for the stunning snap.
Looking good: Scarlett Moffat, 32, showcased her blossoming bump in a burnt orange figure-hugging dress and matching cardigan
Easy does it: Scarlett and her boyfriend Scott Dobinson have been enjoying as many date nights as they can before the baby arrives in a few months time
She looked nothing short of sensational and captioned the post: 'Packing my hospital bag has made it feel real of just how soon I'll get to meet my little boy and see the feet that have been kicking me.'
The picture comes after Scarlett joked to her followers how her life has already started to change.
Filming the sun shining outside a window, she told them: 'Now normally if the sun was shining this much on a Sunday afternoon up north I'd be having a margarita but what am I doing?'
She then panned the camera round to show herself makeup free and bouncing on a blue exercise ball and continued: 'I am doing me third trimester ball exercises. Not quite a margarita, but yeah not long now, not long now!'
The TV personality – who recently revealed she was expecting a boy – told how she has been enjoying some dates with her partner before the baby arrives, which have included watching The Little Mermaid and enjoying an ABBA night.
Earlier this year Scarlett announced she was expecting her first child with her boyfriend Scott.
At the time she took to her Instagram to reveal her jovial news by posting an adorable video of her ultrasound scan.
In the clip, her beloved chihuahua Bonnie could be seen wearing a brown neckerchief with the words 'I'm going to be a big sister' printed across it.
Joker: Scarlett has been keeping her followers updated on her pregnancy journey and on Saturday she showed them her makeup free, bouncing on a blue exercise ball
Nearly there: The TV star is in her third trimester and joked that normally if the sun was shining she would be having a magarita
Happily ever after: Scarlett and Scott have known each other for more than 15 years and began dating in late 2018 before announcing their pregnancy earlier this year
And the pooch could be seen sitting beside an ultrasound scan of the unborn child as Scarlett revealed her exciting baby news to her 2.3 million followers.
Alongside the clip, Scarlett gushed it felt like a 'dream' to be announcing her pregnancy and admitted she and Scott, 34, were 'on cloud nine'.
The happy announcement comes after Scarlett celebrated her fourth anniversary with her police officer boyfriend last month.
Scarlett and Scott, who have known each other for more than 15 years, began dating in late 2018 and went public with their relationship in March 2019.