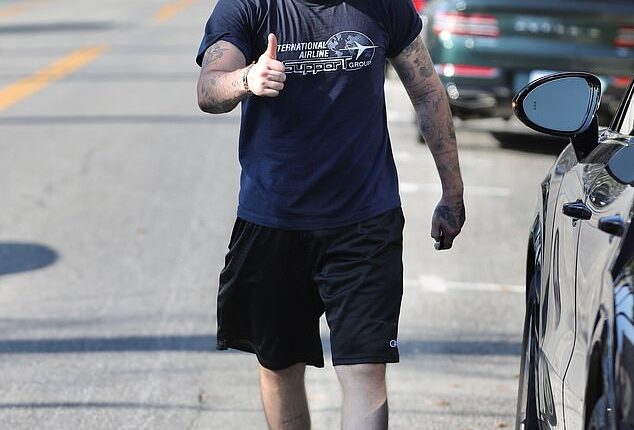 Brooklyn Beckham gave a thumbs up and showed off his bulked up physique as he exited a gym in LA on Thursday.
The shaven-headed son of Victoria and David, 24, appeared to be in good spirits as he showed off his toned look, fresh from his workout.
Brooklyn strutted with confidence as he stepped out wearing gym gear made up of black shorts, a T-shirt and white trainers.
The Cookin' With Brooklyn host showed off his tattooed arms and gave a grin as he sported his buzzcut whilst on the outing.
He complemented the look with a gold watch on his right wrist and his T-shirt bore the logo for the International Airline Support Group. 
Thumbs up! Shaven-headed Brooklyn Beckham showed off his bulked up physique as he left a gym in West Hollywood on Thursday
New do! The star was seen out and about just weeks after shaving off his dark brown locks 
Bulking up! Brooklyn has been bulking up in recent months (pictured in July 2023 with wife Nicola Peltz)
Towards the end of August, Brooklyn – who tied the knot with heiress Nicola Peltz in 2022 – was seen having his head shaved by his wife and the 10-year-old sister of pop star Selena Gomez.
The Single Soon hitmaker posted snaps of the event to her Instagram Stories, where  the friends could be seen giving Brooklyn a new do.
Selena captioned the post: 'My babies'.
Gracie – who is the little sister of the former Disney Channel star – donned a Mean Girls-themed t-shirt to play hairdresser whilst Nicola could be seen grinning as she shaved off her husband's long dark locks.
Brooklyn then unveiled his new look on his own Instagram page shortly after his younger brother Romeo, 20, opted to go for the same shorn style.
David commented on that post: 'Looking good, Romeo'.
The style is reminiscent of David's buzzcut from his heyday as a midfielder for Manchester United in the early 2000s.
Doting sister: Selena Gomez shared a heartwarming Instagram picture of her little sister Gracie, 10, shaving their friend Brooklyn Beckham's head
Having a ball: Brooklyn's wife Nicola Peltz , an actress who is also close pals with Selena, could also be glimpsed joining in on the fun
 Inspired by dad: Brooklyn Beckham showcased his new buzzcut on Instagram in August 
Iconic: David Beckham proved himself to be a true style icon even within his own family as his son copied his famous look
Changing it up! The star was known for sporting thick dark locks as he hosted his short-lived cookery show  
Speaking about his best and worst styles – notably the infamous mohawk and the cornrows – David said: 'The mohawk and probably the cornrows. We were in the South of France when I'd had a glass of rosé.'
At the time, David also admitted that he has 'always loved' his signature skinhead look because of how 'easy' it is to maintain.  
He said: 'Apart from this one? I always loved the skinhead because it was easy. You didn't have to do anything with it so I loved the skinhead… 
 'I look back now and I'm not sure but I always felt that I was always wearing the right thing at the time.
'I just loved fashion. I loved wearing different things and different clothes and things like that.
Post source: Trending Today London