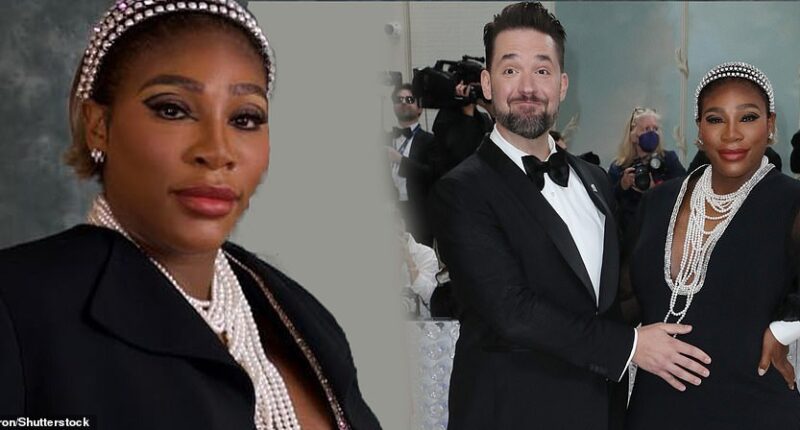 Serena Williams is pregnant again! Tennis legend, 41, debuts her new baby bump as she and husband Alexis Ohanian stun at the Met Gala
Advertisement
Serena Williams is expecting her second child after revealing her pregnancy as she arrived at the 2023 Met Gala ceremony on Monday. The 41-year-old tennis superstar showed off a prominent baby bump as she walked the red carpet at Metropolitan Museum of Art in New York City with her husband Alexis Ohanian. She welcomed her first child, a daughter named Alexis Olympia Jr., in 2017, though she goes by Olympia. 
Serena also confirmed the pregnancy with an Instagram post showcasing her elegant Gucci dress. 'Was so excited when Anna Wintour invited the 3 of us to the Met Gala,' she playfully captioned her post. Serena appears to have first revealed her pregnancy during a Vogue livestream while chatting with La La Anthony. 
She had previously mentioned wanting to have another child after announcing her retirement from tennis in August of last year, which she seems to have made good on. At the time, she said she would be 'evolving away' from the sport. After she mentioned that there were three people there for the interview — herself, Alexis and the baby — her husband and La La both offered to have a drink in Serena's honor, according to the AP. 
Serena showed off her bump in a striking black dress that hugged her curves. It featured angular rhinestone trim on the hem and billowing sheer pleated sleeves that hung dramatically around her arms. The bottom of the dress fanned out into an opulent white tulle skirt that followed behind her. Serena's dress featured a plunging bedazzled collar that highlighted her cleavage, though she covered it with multiple thick strands of pearls draped around her throat. She covered her hair with a regal jeweled headband and swept it back in a stylish blond bob.
Alexis oped to let his wife shine through, so he wore a simple but classic black tuxedo with shawl lapels, along with a large black bow tie. Before the Gala, Serena shared her preparation in Instagram Stories videos.
One humorous clip showed her taking a bite of french fries and a cheeseburger while another woman wiped her lips gently to keep her makeup pristine. This year, the ball's theme is Karl Lagerfeld: A Line of Beauty. The late German designer was Chanel's long-time creative director. He passed at age 85 in 2019. His beloved cat, Choupette, has even been invited to the festivities.
The decision to honor Karl has sparked controversy given the many offensive remarks he has made over the years, from slamming the #MeToo movement to opposing same-gender marriage. 'I'm against it for a very simple reason: In the 60s they all said we had the right to the difference. And now, suddenly, they want a bourgeois life,' he told Vice of same-gender marriage. 'It's difficult to imagine—one of the papas at work and the other at home with the baby. How would that be for the baby? I don't know. I see more lesbians married with babies than I see boys married with babies. And I also believe more in the relationship between mother and child than in that between father and child.' While he ultimately showed his support for same-gender marriage at his spring 2013 Chanel haute couture show, he still said he was 'less keen' on same-gender couples adopting children, according to AP. 
Want more stories like this from the Daily Mail? Visit our profile page here and hit the follow button above for more of the news you need.